Project Tango developers' phone coming from Google and Qualcomm powered by Snapdragon 810 SoC
9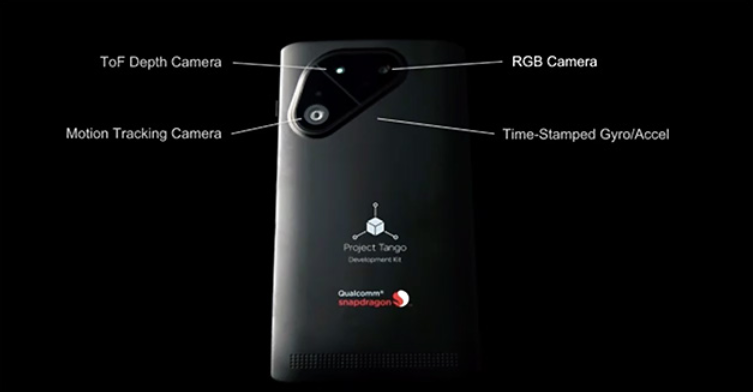 This slide appears to show the back cameras on Qualcomm and Google's Project Tango phone
You might recall that
Project Tango covers smartphones and tablets using special cameras
, sensors and software
in order to map out a "3D model of the space around you." The special hardware takes a quarter of a million 3D measurements each second, and updates that data in real time.
Qualcomm has just announced that it and Google are working together on a new Project Tango handset that will be powered by the Snapdragon 810 chipset. That includes an octa-core CPU and the Adreno 430 GPU. The phone is not going to be made available to the public as it will be offered only to developers and device manufacturers. It essentially is Qualcomm's reference phone design with Project Tango capabilities built in.
Yesterday, Google announced at I/O that the Project Tango developer kit tablet will go on sale next week at a price of $512. It will be available from the Google Play Store for everyone, and will contain the NVIDIA Tegra K1 chipset inside. This is the
same tablet that launched earlier this year
for developers, priced at exactly twice what Google is asking for now. It includes a 7-inch screen with 1080 x 1920 resolution, 4GB of RAM and 128GB of native storage. Two cameras are included along with a depth sensor. The slate supports Wi-Fi, Bluetooth LE and 4G LTE connectivity.
Project Tango originally came from Motorola's Advanced Technology and Projects group, the same team behind Project Ara.
When Google sold Motorola to Lenovo
, Google kept the group instead of turning it over. Things like 3D mapping and modular phones are more suited to a company like Google as the tech titan is more likely than Lenovo to be able to put Project Tango on a commercial phone.
source: Engadget
Recommended Stories