Tepid iPhone X sales and triple cameras behind Huawei's overtaking of Apple in Q2
45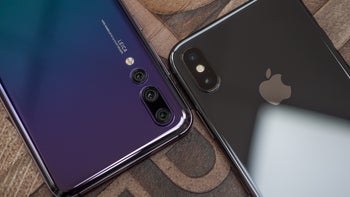 If we needed more confirmation that
Huawei overtook Apple
as the world's second-largest handset maker, Gartner Research just delivered it. In the past quarter, Huawei's phones held 13.3% of the global market share for smartphones, while Apple was third with 11.9%.
Huawei's
upward march
, however, was not for the sake of Apple, whose piece of the global pie remained largely the same year-on-year, but rather for the sake of Samsung. The world's number one maker saw its share dip from 22.6%, to 19.3%, due to
tepid sales of its S9 flagship duo
.

Given that Apple released not two, but three phones last year, most analysts and researchers were expecting it to have snagged extra market share at this point. The expected upgrade wave to the iPhone X didn't materialize, though, and interest tapered off much earlier in the phone's life cycle than is typical for Apple. According to Gartner's research director the reasons for Huawei's rise and Apple's stagnant share are twofold:
Huawei continues to bring innovative features into its smartphones and expand its smartphone portfolio to cover larger consumer segments... Demand for the iPhone X has started to slow down much earlier than when other new models were introduced.
Analysts are expecting the mother of all upgrade waves this year, with as many as 350 million iOS users waiting in the wings for Apple's trio of new iPhones, so next year at this time the team from Cupertino may fare better. Huawei, however, won't be resting on its laurels and is expected to deliver some innovation in its turn with the Mate 20 Pro and even a flexible phone in the works, so we'll see how it all pans out. Where does that leave Samsung? Well, with an anniversary
Galaxy S10
on the way, and the much-anticipated premium foldable handset, next year is shaping up to be the most exciting for the smartphone industry in a while.