Renders for the Android-toting BlackBerry Venice show the device looking sleek in a variety of colors!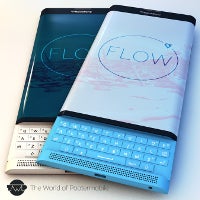 We've already seen enough
leaks of the BlackBerry Venice
to be next to certain that it will be coming out – unless it gets scrapped in the last moment, that is. Unfortunately, there is no official word on when BlackBerry intends to unveil it.
What makes the Venice interesting? Well, first, it's a BlackBerry smartphone that will be running on Android – and, judging by
real-life picture leaks
– it will be an almost pure version of the operating system, as no excessive skinning can be seen. Secondly, the phone appears to have its screen curved on both sides – much like the Galaxy S6
edge
– though, it appears that the arcs are way too shallow for any edge-like functions to be present. Third, it's a phablet-class handset with a slide-out physical keyboard – you don't see that very often these days!
So far, we know of two colors that the Venice may be available in – black and white. But, a fan has recently created a few renders, showing us how sexy the phone could look in a variety of colors – white, aqua blue, purple, silver, red, and black. And, indeed, the images are drool-worthy. We can't say we expect BlackBerry would the phone in that many finish variations, but hey, we've seen a
Ferrari-red limited edition
for the
Passport
, so it's entirely possible that the Venice may get a similar treatment.
The BlackBerry Venice is expected to sport the hexa-core Snapdragon 808 SoC, 3 GB of RAM, and an OIS-assisted 18 MP main camera. Price and release date are yet unknown.