Render pictures of the shiny Samsung Galaxy S7: the best ones and the alleged real thing
33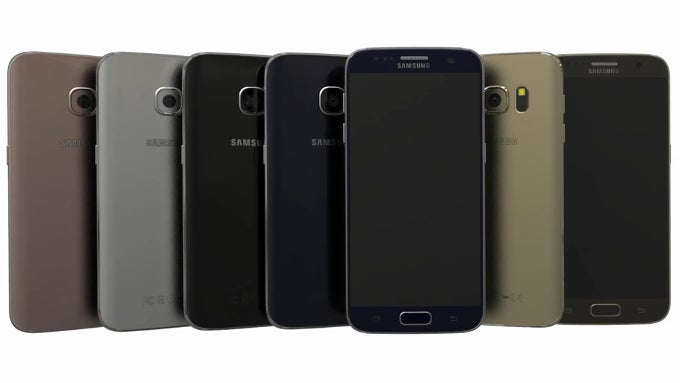 The launch of Samsung's Galaxy S7 is drawing near. While the company itself hasn't said anything official yet, common sense dictates that it will want to debut its new flagship on the annual Mobile World Congress superevent, which will be happening between the 22nd and 25th of February. Many reports have confirmed this, including an alleged Samsung poster leak, which specifically points at
the 21st of February
as the day that we will see #TheNextGalaxy.
Of course, as you can expect for such a high-profile handset, there have been a lot of concept renders made by fans and artists — some based on actual leaked information, others representing a realistic evolution of Samsung's design language, and some just being a bit off-the-wall — and, naturally, some leaks of the actual real thing, be it in the forms of schematics or in-house renders.
The real thing?
If you've been following the recent Galaxy S7 news, you've probably seen the alleged Samsung-made images of what the smartphone will actually look like. According to latest information, Sammy will launch
two devices
– "regular" Galaxy S7 with a 5.1" display, and a Galaxy S7 edge with a 5.5" display. It seems earlier reports that suggested there will be a Galaxy S7 Plus and Galaxy S7 edge Plus were either wrong, or the devices will be postponed for later this year. And that makes sense – if Sammy chose to launch 4 high-end handsets at the same time, that'd be just a bit overkill.
The most trust-worthy reports we've seen about the handset show us that, design-wise, the Galaxy S7 isn't much different from its predecessor. It has an extra curve here and there, and the camera hump has been reduced to become almost flush with the smartphone's back, but it's mostly the same device, which isn't necessarily a bad thing, as the
Galaxy S6
is certainly a beautiful piece of tech. So, without further ado, here are the alleged renders of the Samsung Galaxy S7 and Galaxy S7 edge:
Realistic concept renders, based on design leaks
Artist Jermaine Smit is famous for his high-quality concept renders of big-name flagships. He followed the Galaxy S7 leaks and rumors and
kept updating
his rendition
of what the device might look like accordingly. As a result, we have a set of beautiful Galaxy S7 and Galaxy S7 edge renders, which are probably the closest we will get to having a look at Sammy's actual new flagships before the actual unveiling date. Check them out below:
What other artists imagined
So, we do have some certainty about the Galaxy S7's looks. But a few artists did prefer to imagine an evolution of Samsung's design language and create some different concept models. A couple of these, we've listed below. The first Galaxy is the work of Mr. Hasan Kaymak, and while it's just a bit off-the-wall, it certainly has an elegant charm to it. The second one is imagined by a Martin Hajek and has a dual-camera setup on its back, glowing auras around its navigation keys, and the choice of what seems to be a leather finish – cool! You can check them out for your viewing pleasure in the slideshow below, but keep in mind – it is highly improbable that the Galaxy S7 will look like these.