Samsung to ditch Galaxy S7 edge+ and launch just two models at MWC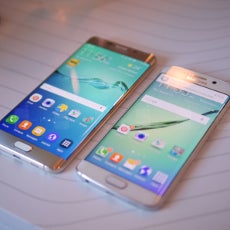 As is tradition at this time of the year, Samsung is set to take center stage at the forthcoming Mobile World Congress event to unveil its latest and greatest handsets. A company renowned for dropping more new mobile devices than any other well-known firm, it was initially anticipated that there'd be
four flagship-level smartphones
in the offing for early 2016. Both the
Galaxy S7
and
S7 edge
looked set to be accompanied by Plus versions of each. But with little mention of the
Galaxy S7 Plus
in recent times, industry insider Evan Blass believes that the S7
edge
+ has also been struck off, leaving just the S7 and S7 edge.
In some respects, having two devices on offer will help to keep things simple and uncomplicated. But per recent leaks and info, the curved-edge display of the S7 edge won't be the only differentiator from the standard edition. In fact, the S7 edge looks set to pack a 5.5-inch display versus the
5.1
-inch panel of the regular S7. So while there mightn't be a
named
S7 edge+, the rounded S7 variant should still appeal to those looking for more display real estate.
What this also means, of course, is that edge fans will have to opt for a device with a 5.5-inch canvas, which may prove a tad unwieldy for those with average-to-small hands. With that said, Samsung may also be hoping that by adding a device midway between the S6 edge and S6 edge+ in terms of stature, fans of either handset may be tempted by the newer model.
Samsung being Samsung, it's probable that the rumored handsets will arrive at some point in the near future as the company looks to saturate the market with its tech. But at launch, it'll likely be a heads-up between the 5.1-inch S7 and the 5.5-inch S7 edge.
Will you be sad to see the lack of a smaller
Galaxy S7 edge
, should this turn out to be the case?