This Galaxy S7 concept video depicts the latest design leaks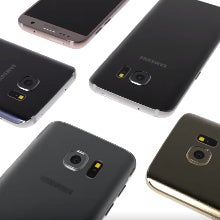 The
Galaxy S7
production process should already be ramping up, if Samsung wants to announce it on February 21st indeed, as that's the date
rumored for its Unpacked event
to precede the big MWC expo next month. Judging from the leaks about it, which are also ramping up, the phone may indeed be ready for prime time, and just waiting for Samsung execs to take centerstage in a few weeks, and take it out of their pockets for the world to see for the first time.
Well, it might not be exactly the first time, as many a graphics designer have already tried their imagination chops, and, based on leaked case maker blueprints and rumored design peculiarities, have made concept renders and even videos depicting what the
Galaxy S7
should look like. The latest in this series is a video made by artist Jermaine Smit, which fleshes out the latest in Galaxy S7 knowledge so far. It showcases the
alleged Note 5-style body with tapered back
, the rumored
12 MP camera module
that would eventually be protruding less than on the
S6
, and the various color combo the phone may come with - check it out below, and tell us what you think.