Real-life Galaxy Note 7R (Note FE?) photos pop up: looks just like the Note 7, but has a small identifier
21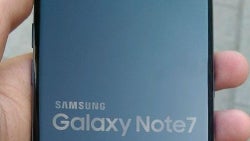 By now, everyone and their dog knows about the
Galaxy Note 7
explosive scandal
. One of the most anticipated smartphones for 2016 turned out to have a
faulty battery design
and was recalled en masse because most units were in danger of blowing up.
We used to think that this is
the last we would see of the Note 7
, but recently, reports started popping up about a limited relaunch for the ill-fated phablet. First dubbed the
Note 7R
, the resurrected Sammy phone would come with a slightly smaller and guaranteed-to-be-safe battery. It was hinted that it will only be available in some markets, but we don't know which ones yet.
We've
seen the purported device before
, looking just like any ol' Note 7 would look like, but we haven't really seen its back. Today, a couple of hands-on images — supposedly of the re-launch model — have popped up, showing us the device's front and back.
So, it's a shiny glass-and-metal sandwich — no surprise there, it's pretty much the same phone as the Note 7. The only thing differentiating it is the big letter R, printed on the lower-right side of its back.
Funnily enough, we did get reports that the re-launched phablet will be called the Galaxy Note FE — that's "Fandom Edition". It made sense that Samsung would try to steer away from the Note 7 moniker and the name sure takes a stab at trying to get self-proclaimed Note fans to want the device. So why is the letter R on the back of this device?
Well, there are a few possibilities. The pictures could be fraudulent or they could be of an older test unit, which was branded with an R. Or the name is not going to be Note FE, but actually Note 7R? Also, it's possible that the Note FE be marked with an R on its back because... it's revised? It's R-rated? We don't know, we'll see.
Fingers crossed
it's not limited to the Asian markets!
Thanks for the tip, Arvind!