Results: would you buy the refurbished Samsung Galaxy Note FE?
30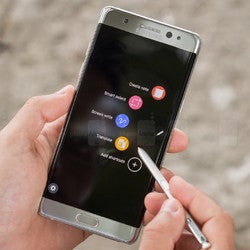 The
Samsung Galaxy Note 7
may have died a swift death, but it's not gone forever, it seems. Reports are saying that Sammy is gearing up to re-launch a small batch of refurbished Note 7 units, equipped with a smaller 3,200 mAh battery. The handset will be renamed to the
Note FE
, probably because Samsung wants to stay away from the Note 7 name.
In terms of hardware and appearance — the FE is pretty much the same phone, sans the battery, which will hopefully be much more stable. So, it's still a top-notch phablet, for sure, and that curved glass design is definitely not getting old anytime soon.
As for price, it is speculated that the Note FE will don a price-tag that's about %30 lower than the Note 7's. This would mean about $520 - $550, if the phone hits the US market. If this all turns out to be true, would you buy the Galaxy Note FE?