Report: Samsung Galaxy Note 7R set for late June release in Korea priced at equivalent of $620 USD
29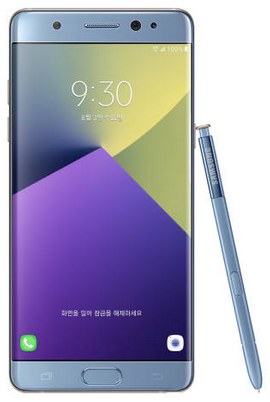 The Samsung Galaxy Note 7 in Blue Corral
With the refurbished
Samsung Galaxy Note 7
expected to launch in Korea by the end of June, Samsung plans on re-releasing the phablet with a lower battery capacity, and a lower price. The Samsung Galaxy Note 7 had no shortage of fans and the device was on its way to becoming one of the most popular Samsung handsets of all time when several units exploded. This led to a pair of recalls and a decision by the manufacturer to pull the device from the marketplace.
Samsung tried to get Galaxy Note 7 owners to trade in their phablet for a
Samsung Galaxy S7 edge
, or some other similarly priced phone. While most eventually did take Samsung up on the offer, a surprising number of consumers worldwide decided to risk the possibility of an explosion to keep the model in their pockets.
Samsung started reducing the charging capabilities
of the device in order to make it useless.
Ironically, it is this dedication to the design and features of the Galaxy Note 7 that Samsung is counting on as it starts prepping the refurbished model, which is supposedly going to be known as the Samsung Galaxy Note 7R (for refurbished). As far as pricing is concerned, the original model sold in Korea for the equivalent of $875 USD. The price for the refurbished unit could be as low as the equivalent of $620 USD. That would be a 29% price cut, perhaps not a deep enough haircut to get consumers reaching for their wallets and purses.
As for the battery, instead of the 3500mAh juicer that powered the Galaxy Note 7 (and was responsible for its demise), Samsung will employ a 3200mAh battery on the refurbished unit. The goal for Samsung is just to bring in whatever money it can. The devices have been written off already, so every dime Sammy brings in from selling a refurbished Galaxy Note 7 goes right to the bottom line as "found money." Keep in mind that the refurbished model will
probably be sold only in Asia and parts of Europe
The Galaxy Note 7 will always have its fans, and there will be consumers picking it up as a conversation piece. But it might have been best for Samsung to leave well enough alone. We get that the company wants to recoup some of its losses, buy why get consumers thinking about the worst smartphone disaster in Samsung history? After all, the Galaxy 8 and Galaxy S8+ are available now, sporting the latest high-end specs and that fantastic design? The pair will probably set company sales records this year. In addition, the Samsung Galaxy Note 8 will be just 90-days away from being unveiled by the time the Galaxy Note 7R start hitting the marketplace in Korea. Samsung should be focusing on the present, not the past.
source:
ETNews
(
translated
) via
SlashGear