Razer Phone 2's specs might disappoint
18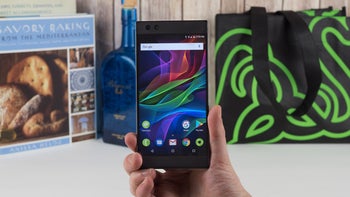 Next month, on
October 10
, Razer will announce a brand new smartphone - its second ever. Seemingly called
Razer Phone 2
, the upcoming handset might not be much of an upgrade over the company's current smartphone (pictured above).
Recently, based on information revealed by a
benchmark listing
, we assumed that the Razer Phone 2 would be
powered by Qualcomm's Snapdragon 845
processor (also found inside many of today's high-end Android handsets). However, from this point of view, the new Razer smartphone might disappoint us by ultimately packing a Snapdragon 835 processor - the same that's powering the original
Razer Phone
from last year.
Thanks to a newly-leaked Google Play certification uncovered by XDA Developers, we now know that the Razer Phone 2 is codenamed "aura" and runs Android 8.1 Oreo. The same Google Play certification shows that the handset features a Snapdragon 835 processor instead of the superior 845, alongside 8 GB of RAM and a 1440 x 2560 pixels display, just like the 2017 Razer Phone. Additionally, we can see that the new handset (which, as reported not long ago,
looks a lot like the original
) comes with a pre-installed Chroma app. Chroma is a Razer-developed LED lighting system - implemented on keyboards and mice, for example - but it's unclear exactly how it will be used on the Razer Phone 2.
Since these specs (and new phone image) have been submitted to Google by Razer itself, there's a pretty high chance they're accurate.
If Razer's next smartphone does indeed pack last year's Snapdragon 835 processor, it's likely that the company is making this compromise in order to cut costs - which hopefully means the Razer Phone 2 won't be as expensive as its predecessor ($699 at launch).
At this point, the next-gen Razer Phone simply doesn't look as exciting as the original handset was when it went on sale last year. But maybe Razer has some surprises to unveil on October 10 - let's wait and find out, shall we?
Recommended Stories