RIM CEO uses the Samsung Galaxy S III for a second phone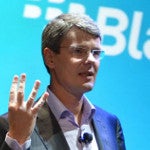 "Yes, I absolutely do [use a BlackBerry], however, just to stay educated about the market, I always have a second device that is a competitor device so I know where I am, in terms of the competition."-Thorsten Heins, RIM CEO
We'll admit that at first, when we heard that RIM CEO Thorsten Heins has a Samsung Galaxy S III for his second phone, we thought that here is someone without confidence in his own products. But after reading the interview that the executive did with CIO, and thinking about some of the
dismissive comments that the previous regime made about BlackBerry's competition
, we started to realize that this was actually a good thing for RIM fans.
While Mr. Heins currently uses the Samsung Galaxy S III so that he can "
stay educated about the market,
" he says that he used to own an Apple iPhone so that he could "
understand touch devices at the entry level
". Heins says that he changes his second phone on a regular basis. And while there are probably a ton of jokes that you could use in this situation, think about to the isolationist regime of Mike Lazaridis and Jim Balsillie. Just
reading some of the comments that have been attributed to the co-CEOs
just as the Apple iPhone was first hitting the market made it pretty clear that neither of them had taken the time to examine the device.
the rushed launch of the 'half-baked' Storm
showed that there was a whole new consumer segment to the smartphone business, led by the Apple iPhone, that
the Canadian manufacturer was missing
. The good news is that the CEO seems hell-bent on keeping BlackBerry 10 under wraps until it is absolutely ready to be launched.
Judging from the
response, positive feedback and excitement
that occurred when
some of BlackBerry 10 was introduced
during May's BlackBerry World, there is a large part of the smartphone community that is
dying to see the rest of BlackBerry 10
and hopes that
RIM lasts until the new handsets are rolled out
. With someone at the top that sees what the public wants and is buying, there is a good chance that this time,
RIM will get it right
.
source:
CIO
via
AndroidCentral