Leaked confidential RIM roadmap shows launch of BlackBerry 10 handsets
14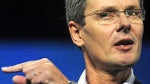 A "strictly confidential" road map for BlackBerry was leaked and obtained by
BBOS.
The roadmap
includes the expected launch of the new BlackBerry 10 OS
. As we recently told you, RIM pushed back the launch of its first BlackBerry 10 flavored handset to next year and according to the roadmap,
the first two devices to be powered by the new OS, the BlackBerry London/Nevada
, will first hit the European market during the first week of January next year. A month later, the devices will make their Stateside launch.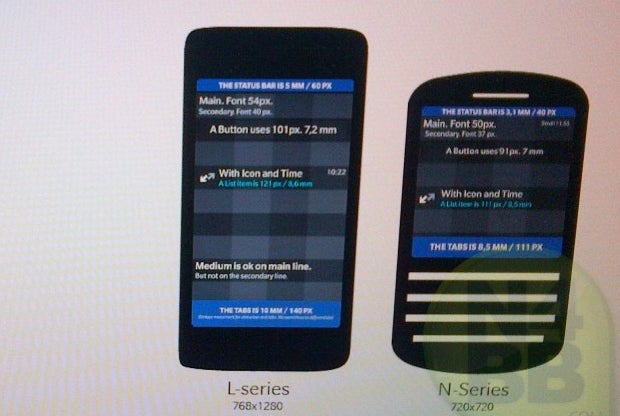 The alleged BlackBerry L series (L) and N series
Just a thought. Suppose the L in the name BlackBerry London indicates that it is an
"L" series phone which is the model without a physical QWERTY
. Now, imagine that N in the name BlackBerry Nevada means that it is an "N" series phone that includes the physical Bold-esquey QWERTY. If you look at the roadmap,
that is exactly what the diagram shows
. Continuing that way of thinking, the BlackBerry London should have been launched this September and the Nevada in October, if not for the recent decision to push back the launch.
We need to back track a second, as according to the roadmap,
the 4G version of the BlackBerry PlayBook
will be released before the end of this year, some time in Q4 of 2012. Then, after the first BB 10 handset is launched in Europe and the U.S., a BlackBerry 10 version of the BlackBerry PlayBook will hit the market in the first or second quarter of 2013. That will be followed by an unknown BlackBerry device called Nashville, expected to hit the market in the second or third quarter of next year.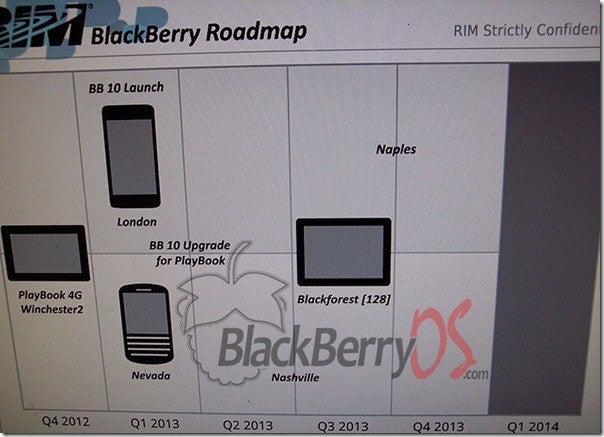 The new leaked roadmap for BlackBerry includes the new BB 10 handsets
In Q3 of 2013, RIM's 10 inch tablet, code named 'Blackforest' is expected. Besides possessing a 10 inch screen, the once-rumored to be canceled tablet is supposedly going to have a model with 128GB of native storage. Finally, the roadmap takes us to the BlackBerry Naples, another unknown device with a launch due in the third or fourth quarter of next year. Following our earlier line of thinking, the
BlackBerry Nashville and BlackBerry Naples could be QWERTY enabled BlackBerry 10 smartphones
.
This is just a leaked roadmap, obviously, but the best news for BlackBerry fans waiting to see if the new OS can save BlackBerry from oblivion is that the first phones are expected in Europe and in the States during Q1 of 2013. Unless RIM drops the other shoe, which includes another setback for the launch of the OS, we won't have to wait through the entire year of 2013 to see if what RIM has
will enable them to survive
.
source:
BlackBerryOS