RIM shows off brief glimpse of BlackBerry 10 in video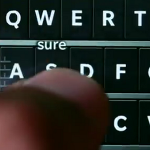 BlackBerry 10 is the star of a short video that RIM has released
to tease its new operating system. Never mind the hardware which is merely
the Alpha Developer's phone that the Canadian manufacturer is handing out to developers
today at BlackBerry Jam. Your main focus should be on the software and while the video is only 47 seconds, we get a good luck at the virtual QWERTY keyboard for the OS and the word prediction caabilities of the keyboard are displayed.
The video also shows off something near and dear to the heart of every 'Berry user,
the email in-box
. We also get a very brief (don't blink) look at video streaming on the video. Obviously this is just a little taste just to get those interested in the new OS hungry for more.
What did you think about the first look at BlackBerry 10? It might require more evidence to form a realistic opinion, but is RIM on the right path here? And remember,
don't judge the hardware
as it is not what RIM will be releasing to consumers later this year; it is being used just to get the software into the hands of developers so that apps can be written before the release of the first BlackBerry 10 handset.
source:
RIM
via
IntoMobile