Qualcomm bests the AirPods' battery life with a new chip for Bluetooth headphones
7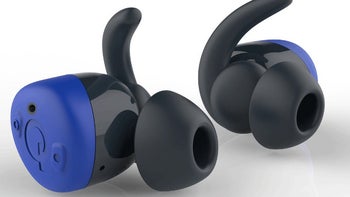 Qualcomm just announced the QCC5100 - a chipset aimed squarely at true wireless earphones, like
Apple's AirPods
. In fact, Qualcomm has nonchalantly mentioned during its presentation that the
Bluetooth 5.0
system-on-a-chip will deliver "
25% better battery life than the most popular true wireless headset on the market today
." Since
that title goes to the AirPods
, this is a stone thrown in Apple's garden by a chip giant which is currently in a
patent feud
with the team from Cupertino.
In the press release, however, the new silicon is actually claimed to offer "
up to 65%
" less power consumption than previous solutions, which obviously are anything else than
Apple's W1 chip
in the AirPods. All in all, this means that earbuds with the new gear should be able to deliver at least 6-8 hours of listening time on a charge, instead of the current 4-6 range, which is pretty svelte.
Not only does the new chippery by Qualcomm offer "
low power wake word detection
," but it's claimed to bring a better battery draw distribution between voice calls and music streaming, too. Inside, a 120 MHz digital signal processor (are we still talking about earbuds?) makes things like voice recognition and noise cancellation work faster in tandem with your Alexa, Siri or Google Assistant of choice.
Earphone designs with the new QCC5100 kit should be hitting the airwaves by mid-year, so even the
best of Bluetooth wireless buds unveiled at CES
aren't able to take advantage just yet. Qualcomm said it has provided reference boards to manufacturers already, but which ones are on the take remains to be seen.