Apple's AirPods are the best-selling wireless headphones despite supply bottlenecks
93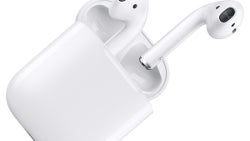 Reputable Apple analyst Gene Munster quipped not long ago that the
AirPods
may
turn out to be bigger than the Apple Watch
in terms of sales and profits, and it turns out that his opinion might have been prophetic. Research firm NPD reported yesterday that so far in 2017 there have been more 900,000 truly wireless headphones sold in the US. Despite the rich competitive landscape from the
likes of Sony, Braghi or Samsung
, Apple's $159 AirPods have accounted for the whopping 85% of total US sales of wireless headphones here in the US.
Since they were released in December, the AirPods were plagued by various supply issues and design jabs, yet Apple may be laughing all the way to the bank when it comes to actual sales. Shipping times for Apple's truly wireless buds have been reduced to between two and three weeks, which is a big improvement from the month or so they were listed for in the beginning, so the announcement and preorder window of the new
iPhone 7s
,
7s Plus
and the
iPhone 8
on
September 12
might see an uptick in orders that will cement the AirPods' position as the most popular wireless earbuds in the US in the first year since their existence.