Qualcomm CEO Mollenkopf says his company and Apple will eventually end their feud
4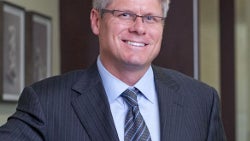 Having trouble eating and sleeping because Qualcomm and Apple are at odds with each other? Both companies are involved in a series of law suits related to Qualcomm's decision not to license its standard essential patents at a fair, reasonable and non-discriminatory price. Apple also claims that
Qualcomm didn't pay it $1 billion in royalty refunds
that Apple says it is owed. Qualcomm says that Apple told its contract manufacturing partners, including Foxconn and Wistron, not to pay the chip maker royalties owed to it for the use of Qualcomm patents in the production of the Apple iPhone and Apple iPad. Just the other day,
Qualcomm filed in China seeking to ban iPhone sales in the country
.
But what Qualcomm CEO Steve Mollenkopf is saying might make you feel all warm and fuzzy inside. The executive was asked today whether the relationship between Apple and Qualcomm could be patched up. Mollenkopf said that the current bad feelings between the two companies is just business and that both firms will shake hands and work together again. He noted that Qualcomm, the world's largest supplier of mobile chips, has a "strong product relationship" with Apple. While disputes do pop up every now and then, the CEO says that the pair "have a broad relationship."
Did Mollenkopf want to predict when the feud would be over? "I don't have a date on that one," the executive said. "It will get resolved." Until it does, get resolved that is, Apple and Qualcomm are currently the tech world's version of the Hatfield and McCoys. And San Diego based Qualcomm has replaced Samsung as the company that puts bread into the pockets of Apple's litigation team.
"Yeah, in the end it's important to remember is that fundamentally this is a discussion about pricing over the fundamental technology that makes the phone. So really it comes down to how much are you going to pay."-Steve Mollenkopf, CEO, Qualcomm
Currently, Qualcomm supplies Apple with mobile modem chips for the iPhone, along with Intel. Last year, Qualcomm's X12 modem used with the CDMA version of the
Apple iPhone 7
and
Apple iPhone 7 Plus
was found to be vastly superior to the Intel XMM 3360 modem used by the GSM version of the phones.
Apple had to throttle the Qualcomm chip in order to keep parity between different carrier versions
of the iPhone 7 and iPhone 7 Plus.
source:
CNET