Quad-core LG and HTC phones with Snapdragon S4 Pro in the top 5 graphics performers, heading to US carriers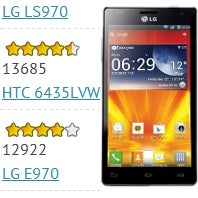 What's common between the LG LS970 "Eclipse" for Sprint, the LG E970 for AT&T, the seemingly Korean version of those SKY IM-A850, and
the HTC 6435 for Verizon
? Well, they are all running the upcoming quad-core
Snapdragon S4 Pro
with MSM8960 chipset and Adreno 320 graphics processor. Anything else?
Well now, those occupy
four of the top 5 slots at the GLBenchmark website
in the offscreen test that's independent of the screen resolutions
.
They are topped only by the
new iPad with its mighty PowerVR GPU
, yet, considering how close the numbers are, the final versions of those phones might very well be with the most powerful mobile graphics on the market. Moreover, the new iPad has much more pixels to take care of, but those devices have to power some pretty high resolutions, too - 1280x768 in the case of LG's upcoming flagship, and the whopping 1794x1080 in the case of HTC's monster, to which we have to add the extra pixels for Android's on-screen navigation buttons.
We already saw
the LG E970 for AT&T beat the new iPad in some graphics benchmarks
, so once these quad-core beasts from LG and HTC hit US carriers, hopefully for the holiday shopping season, we can expect the Adreno 320 GPU and the four "Krait" cores built with the 28nm process to make them the most powerful Android handsets on the market. The LG LS970 for Sprint has a placeholder picture which very much looks like a black
Optimus 4X HD
, so we wouldn't read much into it now for the final design.