Quad-HD Windows 10 phone, possibly the Lumia 940 XL, confirmed through ad network
35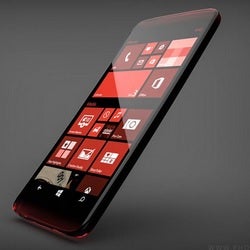 Smartphones running on Microsoft's Windows software have been noticeably adrift of their Android-based competitors when it comes to tech. specs.
Octa-core chips
and several gigs of RAM -- commonplace among devices running KitKat and Lollipop -- aren't so abundant in the Windows Phone market, which is largely attributable to the fact that the software doesn't support such grandiose hardware. But with
Windows 10 Mobile
, things will be changing, and as well as higher-powered innards, better-than-FHD displays will exceed the 1080p output of most current Windows Phone high-enders. After numerous rumors of Windows 10's first quad-HD smartphone, we now have evidence to suggest that such a device is in development, and it could well be the enigmatic
Lumia 940 XL
.
We've seen a number of
concept renders
of the would-be flagship Lumia 940 XL, and have also heard that it
may pack an iris scanner
. But while rumors and concepts are great and all, solid evidence is a lot easier to get excited about, and AdDuplex has confirmed that a device with a quad-HD, 1440 x 2560 resolution is in the works.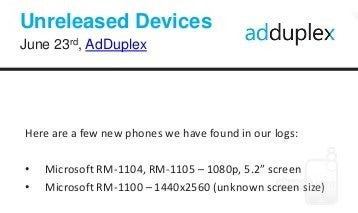 The new 'Microsoft RM-1100' was picked up on AdDuplex's ad network a few days back, but while we do know of the apparent resolution, there are no dimensions at this point. It has been suggested, however, that the Lumia 940 XL will include a 5.7-inch display, which is in line with most other phablets on the market. There will also, as per the rumor mill, be an octa-core processor.
AdDuplex's findings also point to a device named 'Microsoft RM-1104', which has a 5.2-inch 1080p display. This is almost certainly the standard Lumia 940, and underlines the notion that the larger handset be the king amongst men in the Windows space.
Aside from the heavy processor and super-sharp display, the Lumia 940 XL may also bundle a stylus of some description. There could also be a 25-megapixel rear-facing PureView shooter with 4K video, and whatever happens with the rest of the device, you can bank on the camera being a top-notch affair.
Thoughts?