Apple iPhone 8 and iPhone 8 Plus accounted for 44% of U.S. iPhone sales in Q1; iPhone X demand drops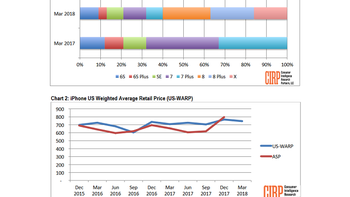 The latest report from Consumer Intelligence Research Partners (CIRP) indicates that in the U.S. the
Apple iPhone X
is struggling to capture sales, while the
iPhone 8
and
iPhone 8 Plus
have been picking up momentum. In the states, those three models made up 60% of iPhone sales during the calendar first quarter of 2018. The
iPhone 8
and
iPhone 8 Plus
were responsible for 23% and 21% of Q1 sales, respectively. The combined 44% share of the two models is up from the 41% they had together in Q4 2017. The
iPhone X
accounted for 16% of iPhone sales in this year's first quarter, down from the 20% of sales it garnered in the fourth quarter of 2017.
Due to the data, CIRP now expects Apple to report a U.S. Weighted Average Retail Price of $746 for the iPhone, down sequentially from $766 in the previous three-month period, but up from the $706 reported for the same quarter last year. The researcher now expects Apple to report a lower Average Selling Price for the March 2018 quarter.
We now have a full quarter of results for all of Apple's new iPhones, and together they account for a smaller share of total sales than the newest phones did this time last year. iPhone X saw its share fall to 16%, down from 20% in the December 2017 quarter. iPhone 8 and 8 Plus share improved relative to the December 2017 quarter, combining at 44% of sales, compared to 41% in the last quarter. This first calendar quarter typically represents baseline demand for iPhones, after the initial launch surge and before any slowdown as buyers begin to anticipate new models. After the initial excitement over the iPhone X features, the highest priced flagship appears to have settled into a smaller share of sales."-Josh Lowitz, CIRP Partner and co-founder
The survey shows that the 2015 and 2016 iPhone models continue to see demand. The 2016
iPhone 7
and
iPhone 7 Plus
contributed 20% of U.S. iPhone sales during the January-March period; the
iPhone 6
and
iPhone 6 Plus
made up 13% of iPhone units rung up during this period. While the
iPhone SE
saw its share of iPhone sales decline from 11% last year's first three months to 8% during the first quarter of 2018, it was still up from its performance during the three months ended in December 2017.
source:
CIRP
(pdf)