Production of Apple iPhone 4 resumes for sales to emerging markets
32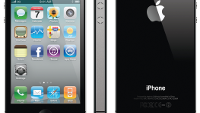 A published report on Tuesday suggests that Apple has resumed production of the previously discontinued
Apple iPhone 4
. The device was replaced in the iPhone line up last September by the
Apple iPhone 4s
. The full-featured
Apple iPhone 5s
is the high-end flagship model with the
Apple iPhone 5c
in the mid-range slot. The Apple iPhone 4s is the low-end model with the
Apple iPhone 5
put out to pasture.
The Economic Times reports that a trio of Apple executives have told it that it is restarting production of the iPhone 4 to give Apple a low-priced model that it can compete with in certain markets. According to the rumor, only three countries will be receiving the iPhone 4, India, Indonesia and Brazil.
Those in the know say that recent shipments of the Apple iPhone 4 are stamped with a production date of December 2013 on the box. Apple's trade partners have allegedly been told that the next batch of iPhone 4 units will reveal a production date of January. According to the report, the first wave of shipments to India numbered 50,000 to 60,000 units. Indonesian and Brazilian tallies were not mentioned.
Apple is expected to offer the 8GB Apple iPhone 4 for 15,000 INR ($243 USD). Thst figure is after a monthly installment plan which has been a big hit in the past. Making installment payments monthly allows Indian buyers to pay just a little each month for the device. Apple tried this in India last year and
found sales of the iPhone surged 300% in one week, and 400% over a few weeks
.
This is the first time that Apple has restarted production of a discontinued phone. Himanshu Chakrawarti, CEO of The Mobile Store, India's largest cellphone retailer, believes that the iPhone 4 needs just a bit of promotion from Apple to become one of the retailer's top-selling models once again.
"
It would now require some promotion from Apple and can potentially become one of our top-selling models like before
," he said.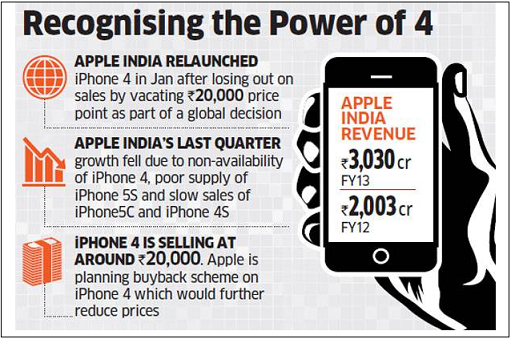 The Apple iPhone 4 is back in production as a model for developing markets
source:
EconomicTimes
via
AppleInsider