An accessory that many Samsung Galaxy Note 10+ owners will want doesn't ship until next month
28
As many of you know by now, the Samsung Galaxy Note 10 series includes a feature that Samsung calls Super Fast Charging. This means that the
Galaxy Note 10
will charge at 25W when plugged into an outlet using the 25W charging adapter that comes with the phone out of the box. The
Samsung Galaxy Note 10+
actually charges up to 45W although the same 25W charging brick found in the Galaxy Note 10 box comes with the Note 10+. There is also a USB-C to USB-C cable that is included with the purchase of either model.
In other words, if you want to take advantage of the full capabilities of the charging technology on the Note 10+, you'll have to purchase the 45W charger separately. If this scenario sounds familiar, that's because Apple does something similar in order to get customers to shell out some additional dough. In the box with the current iPhone models is a 5W charger although the 2017 and 2018 iPhones support fast charging. You can buy an 18W adapter from Apple for $29 if you own an
iPhone 8
,
iPhone 8 Plus
,
iPhone X
,
iPhone XS
,
iPhone XS Max
or
iPhone XR
. You will also have to spend an additional $19 (for 1.64-feet) or $29 (6.6-feet) on a separate USB-C to Lightning connector. Earlier this year, there was
speculation that Apple will include an 18W charging brick
and a USB-C to Lightning cable with the 2019 iPhone models. We should find out as soon as September 10th, the expected date of Apple's next iPhone event according to a screen found on the latest iOS 13 beta.
Galaxy Note 10+ users can pre-order the 45W charger for $49.99; the accessory will ship starting on September 13th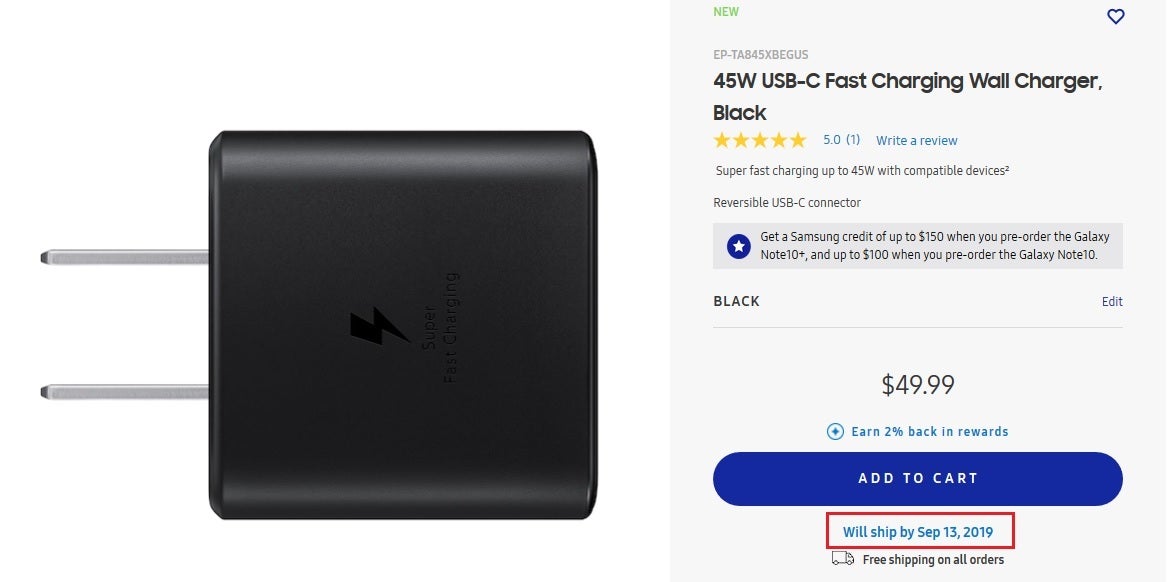 Pre-order the 45W charger for the Samsung Galaxy Note 10+ for $49.99
Super Fast Charging is more important than ever for Galaxy Note 10 and Galaxy Note 10+ users. That's because of the Wireless PowerShare reverse wireless charging feature, which was
the subject of an interesting survey conducted by the manufacturer
last month. With Wireless PowerShare, Note 10 and Note 10+ users can flip the phone face down and use the rear panel as a wireless charging pad. This will allow them to charge up the Galaxy Buds in their wireless charging case, and any compatible phone (even an iPhone 8 and up). Huawei introduced this with the
Mate 20 Pro
last year and Apple will supposedly include this feature with the 2019 iPhone models. But since there is no such thing as a free lunch, the battery inside the host unit will be unselfishly sacrificing some of its battery life to charge an energy-depleted device. That means that the host phone might need to be charged up more often depending on how generous the phone's owner is. Remember, Sammy's survey showed that 72% of the public will NOT share their battery life on the first date. On the other hand, 7% said that they would go out on a date with someone in exchange for some of their battery life.