Samsung survey shows that reverse wireless charging is the new sex
24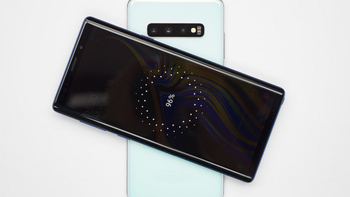 Samsung's version of reverse wireless charging is known as wireless PowerShare, and it is found on the Galaxy S10 line. It also will no doubt be available on the upcoming Galaxy Note 10 series. First included with the
Huawei Mate 20 Pro
, this feature allows you to use the back of a Galaxy S10 handset as a wireless charging pad. Want to quickly charge up your Galaxy Buds? Place the phone on a table screen side down and put the accessory's charging case on the back of the handset. This will also work with compatible phones and smartwatches, too. Just keep in mind that the host phone will be using its battery to power up the device lying on its back panel.
And that brings us to an interesting study
conducted by Samsung Germany
that proves how addicted people are to their phones. Of the 6,500 Europeans that participated in the survey, 35% said that they would rather have a fully charged battery on their phone rather than receive some cash. While only 14% of respondents said that they are willing to share their precious battery life with a stranger, 39% would share battery life with a colleague from the office, 62% would share with a friend or partner and 72% would give up some of their phone's juice to a family member.
72% won't share their phone's battery on the first date

Samsung says that people who share their battery life are sharing a gift and an intimate part of themselves. The company even calls it a "win-win" noting that 62% are willing to buy a cup of coffee for a stranger in exchange for some energy and 7% said that they would agree to go out on a date with someone if they shared some of their battery life with them.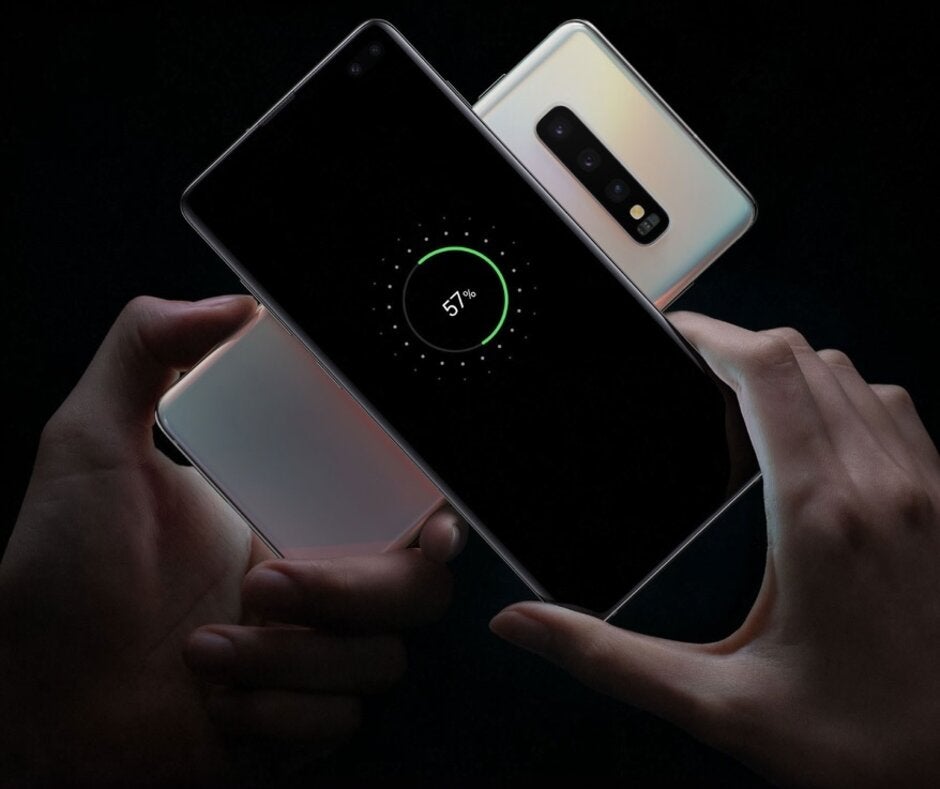 Samsung says those sharing their battery life through wireless PowerShare are sharing an intimate part of themselves
Wireless reverse charging might be the new sex. 72% of the respondents won't share their battery life on the first date with most holding out until the third date. That is why you might overhear someone at a bar say, "Share my Galaxy S10 battery life with you? I'm not that kind of girl." And 21% of the Europeans said that receiving some juice from a date's phone is the most appreciated gesture when they go out. This study indicates that the human race might die out sooner than we think.
"Something as valuable as a full smartphone battery activates areas and chemical reactions in the brain that are associated with joy and trust. This increase in oxytocin triggers a feeling of warmth called Helper's High, which in turn leads to a stronger social bond. PowerShare is a great way to make new friends or awaken romance as it opens up a new dimension of human behavior and interaction."-Katherine Templar, Behavioural psychologist

"A new technology that allows smartphones to share their battery power wirelessly eliminates reliance on traditional chargers while helping to develop modern digital and human behavior. Interestingly, our research shows that charging other devices with your own battery is an effective means of social bonding and improving trust in modern relationships. Sharing the smartphone battery could become more and more a habit."-Mark Notton, Director Mobile Product Portfolio and Strategy, Samsung Electronics
If you're in Europe and your phone is about to die, stay away from those belonging to Generation Z and millennials. Those 18 to 34 are less likely (21%) to use wireless PowerShare to help you out. Instead, head for someone who looks 55 or older. They are more willing (36%) to give you some energy from their handset. And if someone tells you that they don't have enough battery life remaining on their phone to share, don't believe them. One-third (33%) of those taking part in Samsung's survey said that they would lie about this so that they could turn down your request for battery life to keep your phone alive.