Popularity contest: OnePlus 6T stomps LG V40
11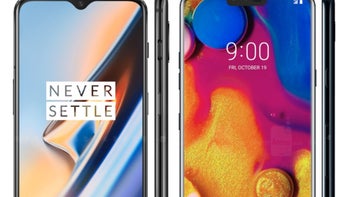 The new kid on the block, OnePlus, proudly calls its smartphones "flagship killers". Why? Because its devices often rock top-tier hardware and some features that even mainstream manufacturers haven't implemented yet, but the OnePlus phones are still noticeably more affordable than the competition. For example, in 2018, flagship handsets have "normalized" the $800 price tag. Yet, the OnePlus 6T, with its under-the-display fingerprint scanner starts at $550. Its internals barely differ from what the top dogs in the industry have to offer and its software is notably snappy, bearing a very clean version of Android.
LG is on the other side of things. The company is an industry veteran, has no issue with boosting its prices, and is notable for having a heavily reskinned version of Android run on its phones, which often leads to software updates being slow and inconsistent. The LG V40 — the company's latest top-tier phone — launched at $950 but quickly became available for prices as low as $700.
So, we put the two devices against each other in a popularity contest and asked you to vote. Lo and behold, OnePlus 6T won 60 to 40. The same result is mirrured in our Facebook poll, where 2/3rds of the votes are in OnePlus' corner.