Poll results: Would you like it if TouchWiz really went flat?
9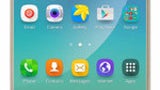 Yesterday,
a batch of leaked screenshots
took the web by surprise, suggesting that Samsung is working on a new, flatter design for its proprietary TouchWiz interface. Being the second leak in a row to indicate the same, we now consider it possible that the South Korean giant is, indeed, planning a design refresh — at least for its high-ends, including the
Galaxy S6
and
Note 5
.
But not everybody's a fan of flat, minimalist UIs, and we still remember how the escape from design skeumorphism just a while ago caused at least a noticeable discord. Others, still, dig the new looks and embrace the now nearly universal focus on flat aesthetics. But what about our readers? And more specifically what's the split? That's what we sought to clear when we published our latest survey, polling you on just that.
For all intents and purposes, now that the results are in, we have a bit more clarity into what our audience likes, and perhaps unsurprisingly, the vast majority (65%) would love it if Samsung truly went for a flatter TouchWiz. The dissidents appear to be matched in size with them undecided folk, with a share of about 18% each. While ours is not a globally representative sample, based on these results, we'd say Samsung has the green light to proceed and implement.
Recommended Stories