TouchWiz goes flat? Alleged Galaxy S6 Android Marshmallow preview screenshots leak
62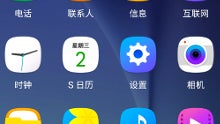 As if to corroborate that the Note 5 Marshmallow leak may be legit, the vast confines of the Chinese blogosphere today erupted with alleged screenshots from the upcoming Android 6.0 update for the
Galaxy S6
, and TouchWiz there looks very similar to the Note 5's interface. While the Weibo poster warns that this is still a preview build, it is immediately noticeable that TouchWiz will be simplified on the S6 in its next edition, too.
Ever since
Apple flattened iOS
, and Android came up with the colorful
Material Design
guidelines, most phone makers ran the iron over their Android interface overlays, ditching drop shadows, gradients or 3D effects. Take it or leave it, Samsung is following that road further, and may now also change one of the uglier components of TouchWiz - the notification bar. The pull-down status shutter sports a whitish theme on the S6 in these screengrabs, both for the background, and for the toggles, which seem to have been more stylishly redesigned as well.
Another cool thing that Android 6.0 Marshmallow may bring to the Galaxy S6, is in the Pro mode of the camera app, where you would seemingly be able to set the shutter speed, in addition to the ISO, exposure, white balance, and other manual settings. The Note 5 currently has this feature in its camera interface, and it is apparently coming to the Galaxy S6 as well, for the unbridled joy of its owners. Check out the rest of the screenshots from the eventual Marshmallow-ed TouchWiz for the Galaxy S6, and tell us what you think of these potential changes that Samsung could bring to its premium handset.