Poll results: Does Nokia's HERE maps app have the potential to overthrow Google Maps?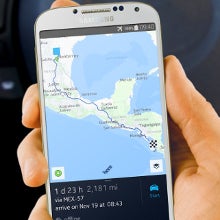 Nokia's renowned
HERE Maps suite
finally made it to the Play Store recently, bringing with it the best free offline navigation that can currently be found on Android. Nokia said that it will halt development of the HERE maps app for Windows Phone, and focus on Android, as well as iOS instead, which hints at more great features ahead.
The software features voice-guided turn-by-turn navigation for vehicles and pedestrians, as well as public transport schedules, lane switching and traffic guidance. You can download detailed maps of various regions, countries (more than 200 are available for download as of now), and even continents. Said maps are kept on your device, and pave the way for faster access, route planning and rerouting, all while being offline. More than 100 of the maps in question allow you to make full use of turn-by-turn navigation, while 40 of them will provide you with traffic information. Previously such offline navigation apps did cost tens of dollars or euros, and we are now witnessing a rapid decline in their pricing, thanks to the HERE maps suite. Thus, HERE maps comes as a godsend when traveling abroad, as those data roaming charges can be pretty steep.
That's why we asked you last week whether you think that the HERE app offers something more than Google Maps, and does it have a potential to overthrow Google's famous navigation solution further down the road. As it turns out, despite the lack of Street View and the clunkier interface, 73% of our 1925 respondents think that HEREs holds something over Google Maps. We are only glad that finally there is some real competition in the free navigation apps, which can only benefit us users in the end.