Pizza Hut's Pie-Top sneaker can have a pizza delivered to wherever you are
9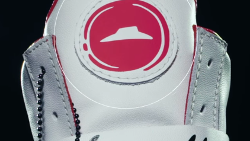 Wearing Pizza Hut's new
Pie-Top
sneakers can help you order a pizza and have it delivered to wherever you are. The sneakers use Bluetooth to sync with the Pizza Hut mobile app, enabling those wearing them to order a pie. Pressing the button on the sneaker's tongue orders a pre-selected pie or the Supreme Pie (by default). Geo-location technology built into the Pie-Tops allows the delivery guy to find his way to wherever you are.
However, don't expect to see these sneakers available at your local sporting goods stores. Only 64 pairs are going to be made and not too many are going to find their way into the public domain. The media and influencers will get first crack at them in order to create a buzz around the brand. A few Pizza Hut "super-fans" will get an opportunity to receive a pair of the sneakers.
Pizza Hut's sales dropped 4% in the last quarter of 2016 and the company is hoping that the buzz surrounding the sneakers puts the company back on a growth track. Besides the buzz it hopes to generate from the sneaker, Pizza Hut plans on selling a two-topping pie for $7.99 during March and some of April. That pizza would normally cost $12.99. The deal is going to be available online only. Half of Pizza Hut's orders are placed online, with orders from mobile devices outpacing those placed through a desktop computer.
Pizza Hut is running the sneaker promotion during the NCAA Men's basketball tournament known as March Madness. You can check out one of the ads starring former NBA great Grant Hill, and a second clip with a video introduction to the Pie-Tops, by clicking on the pair of videos below.
source: PizzaHut (
1
), (
2
),
AdAge
via
NYPost