The best Pixel 4 camera features that you need to know about
12
After months of hot anticipation and incessant leaks, Google today made the Pixel 4 and Pixel 4 XL official. For all the controversy that surrounded the new Pixel models prior to launch, the one thing that we didn't really doubt was that they'd be great for taking pictures and shooting video.
Since the very beginning, Google's home-grown phone brand has offered killer camera performance and features. Through three generations of phones, Google has stuck with a single camera setup, while the competition has now moved forward to make triple- and quad-camera device. That's not to say that Pixel phones didn't do well with a single camera. On the contrary – they did great! In fact, Google has squeezed more performance out of a single camera over the past couple of years than any other company in the game, we feel.
With the Pixel 4 and Pixel 4 XL, however, Google is finally moving on to a dual-camera setup. If they did so well with a single snapper, imagine what they could do with two! Well, that's something that we'll have to try and see for ourselves before we pass any judgement. However, what we saw at the presentation, there's some mighty interesting camera-related things coming to the Pixel 4 and Pixel 4 XL. Here are the things that impressed us most!


New "Night Sight" mode that lets you do astrophotography!
Yep, you read that right. Google's Night Sight mode has been great so far. It offered hands-down the best way to take pictures at night on a smartphone when it launched, though it has since been surpassed by offerings from Huawei and Samsung, among others. However, the new Night Sight on the Pixel 4 seems to be vastly improved. So much so, in fact, that you can now easily take photos of the night sky with your phone, no post-processing required!
As far as more common uses of night mode go, the revamped Night Sight also seems to perform much better when simply taking pictures in the streets, in clubs, or in other dimly-lit environments. The colors we've seen thus far from Night Sight shots taken on the Pixel 4 simply look awesome.
Super Res Zoom
The Pixel 4 comes with two main cameras – a regular wide-angle and a telephoto snapper. The latter offers up to around 2x optical magnification, which isn't much, but Google has a new feature called Super Res Zoom that allows you to zoom much further than this setup would lead you to believe is possible. Of course, as with everything else, the powerful software behind the hardware is what makes this possible. Google hasn't shared many details yet on how it's managed to achieve this, but the results we've seen thus far have been impressive!

Live HDR+
Google's mostly excellent HDR+ is getting an update on the Pixel 4 and Pixel 4 XL, with the biggest difference being that you'll be able to see a much more accurate preview in the viewfinder before taking a photo. Since the nature of HDR+ requires the camera to take a burst of numerous shots and then combine them through software in a finished result, getting an accurate preview before the fact is not easy. With the new, more powerful image processing chip inside the Pixel 4, Live HDR+ shows you a preview that's almost 1:1 with the final result.
Dual Exposure Controls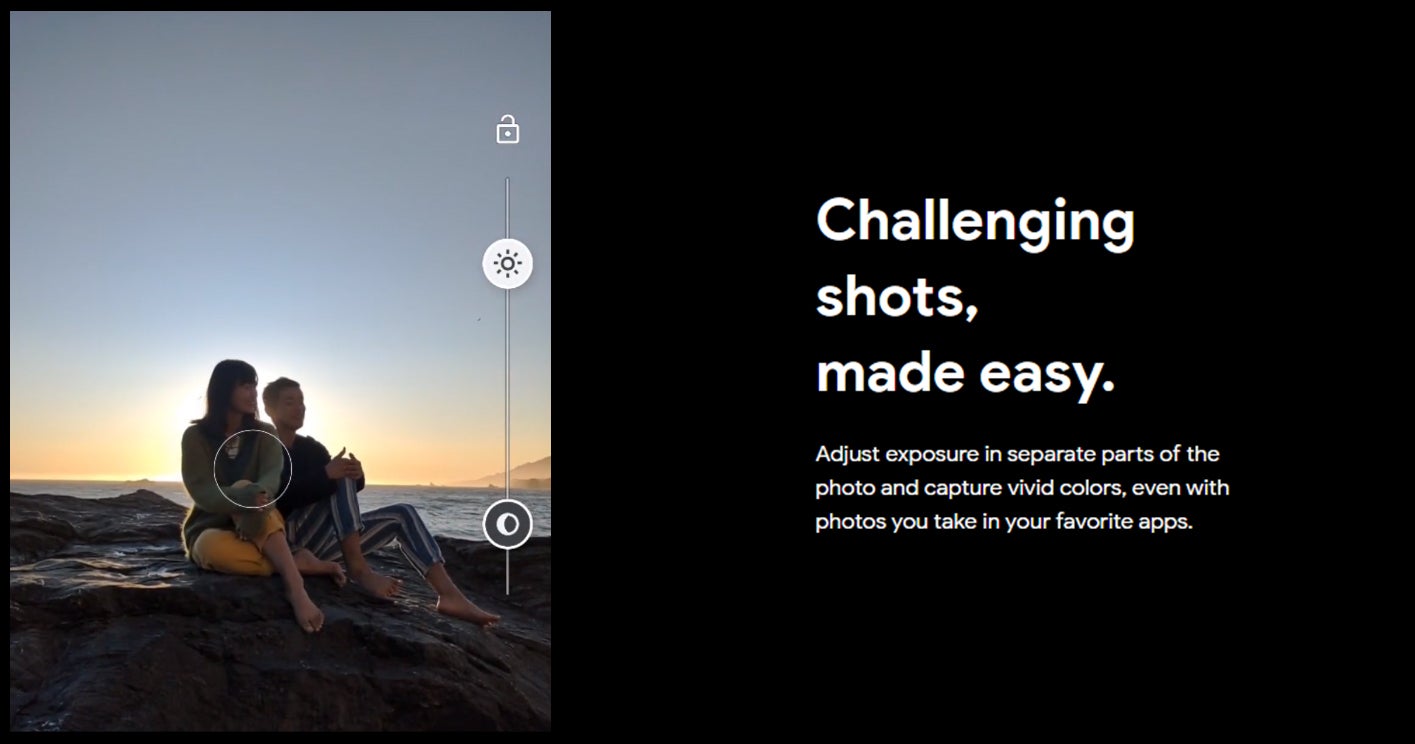 This isn't anything new for people with deeper knowledge in photography, it's the first time we're seeing this sort of control in the viewfinder itself. Dual Exposure Controls are separate sliders that allow you to control the shadows and highlights of an image, independently from one another, right in the camera viewfinder. It's like tapping on your subject to make the camera expose for it, but now you can also adjust other areas of the image as well, without losing the exposure on your subject.

Learning-based white balancing
Learning-based white balancing brings truer colors in photos and images, Google says. It is essentially a machine learning algorithm that aims to deliver the most accurate colors in challenging situations. For example, a tricky scene to white balance correctly would be a photo in a room that's lit with incandescent light. Previous Pixel phones have generally done a good job at this, but the Pixel 4 and Pixel 4 XL will apparently leverage the power of machine learning to further improve the color accuracy of your photos and videos.
Revamped Portrait Mode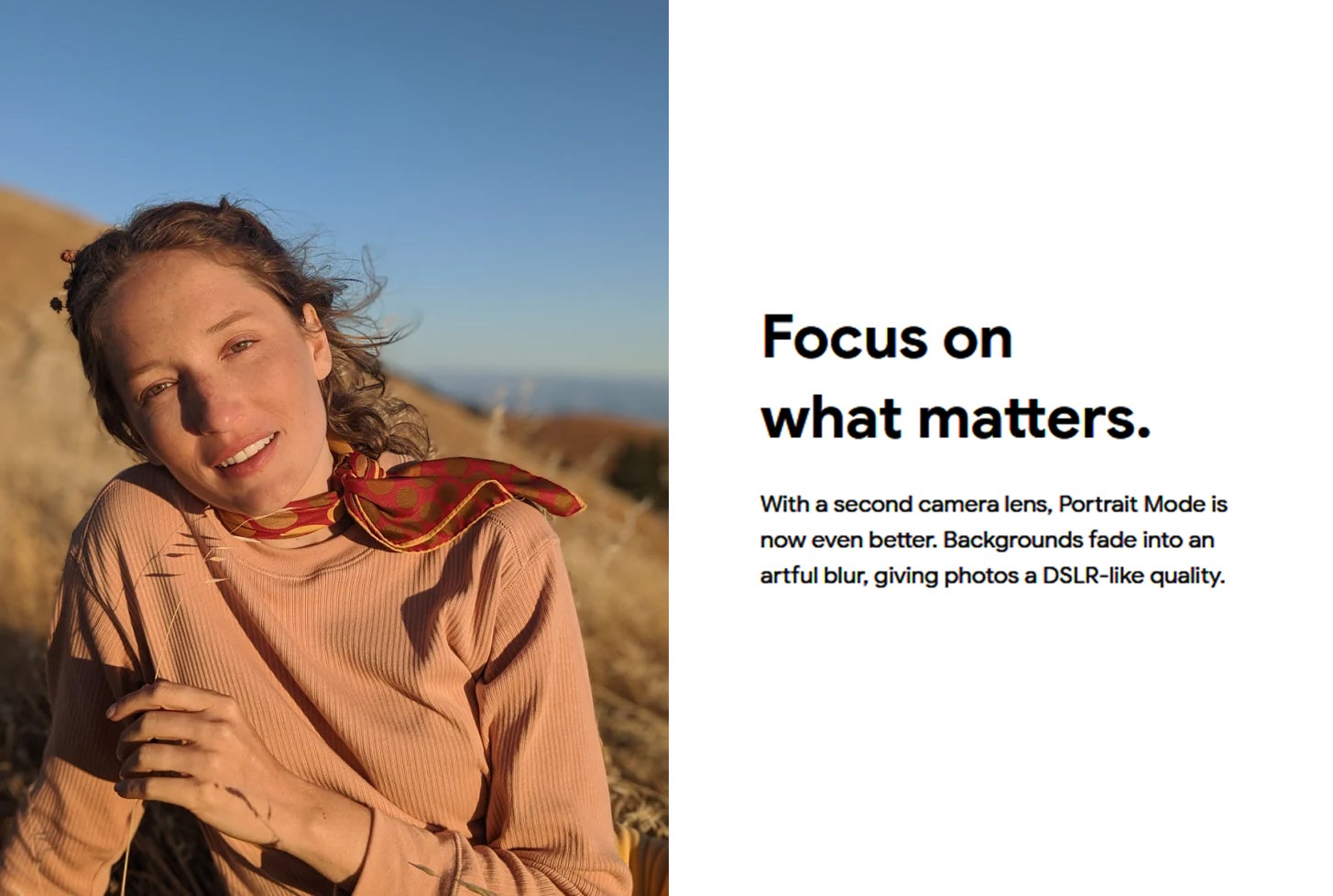 The Pixel 4 and Pixel 4 XL compute depth both for dual pixels and for dual cameras, which allows the phones to do better subject-background separation when shooting portraits. It also allows them to render shallow depth of field in a more natural and believable manner that's closer to what we've come to expect from big cameras.