Google Duplex: it makes calls so you don't have to
12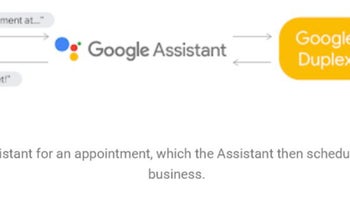 Google has
unveiled
quite a bit in the last week. A fascinating project the company has in the works is called Google Duplex. It uses Google Assistant to make actual phone calls and it is not just dialing the person you requested. It can be used to carry out a conversation with the person on the other end. The A.I. was showcased by calling what Google claims are actually real places and scheduling appointments for its user. The first call demonstrates Google Assistant scheduling a hair appointment. The A.I. sounds pretty convincing in the audio clips. It says things like hmm and oh at the appropriate times and does not confuse easily. There are several instances where the person on the other line is not able to complete the initial request, and Google Assistant navigates the issue brilliantly. The second instance displays Google calling a restaurant to make reservations. The person on the other line spoke with a strong accent, but the language barrier did not fool Google Assistant. It persisted in giving the appropriate information and answering the questions of the restaurant until the reservations were successfully made. The voice sounded remarkably realistic and it is not farfetched to say that the average person would have no idea they are not speaking with a real person.


What can we expect from Google Duplex?
Google has said it is likely it will decrease the realistic nature of the Assistant's voice. Besides privacy concerns, the public regularly voices worry over the
advancement
of artificial intelligence and its impact on society. Google is making a concerted effort to put the public at ease with both privacy and the company's continued
push
in the A.I. field. This means they may remove some of the colloquial language as well as the feigned hesitation in Google Assistant's voice. Obviously, the program does not need to fill in spaces between thoughts with sounds such as hmm, so they are likely to go. It is also likely that the final result will not be as impressive as the demo. It is common knowledge that such demos are carefully choreographed and rehearsed. Everything has to go off without a hitch during a reveal if a product is to be successful. Take one look at the first iPhone reveal and you can see that reality may be more than meets the eye. Although A.I. has come a long way in the last decade, it still has a long way to go. This bit of technology is impressive and while it will surely appeal to both busy and introverted people alike, it may not be everything it is cracked up to be.