Pixel & Pixel XL liveblog: Google's first phone hardware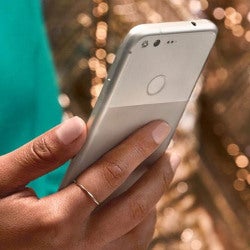 The unthinkable is probably going to happen today, as it seems fairly certain that Google is gearing up to do what practically amounts to entering the smartphone business with a competing product.
The
Pixel
and
Pixel XL
phones, which are expected to be announced today, will be much more of a Google thing than the Nexus devices we're used to seeing come from Mountain View. Where Nexus phones were designed and marketed in close collaboration with other prominent phone makers, the Pixel and Pixel XL are said to follow in the Pixel C tablet's footsteps, which was treated like a product that is exclusively Google.
Beginning at 9 AM Pacific US time today, the company which brought you Android is going to hold a grand press conference, where it's expected to announce a series of new products, including the aforementioned Pixel smartphones, a new Chromecast media device, news surrounding the Google Home device, a
project codenamed Andromeda
, and possibly more.
For the full round-up of rumored product announcements, please see our
What to expect
article.
This is our Google Pixel and Pixel XL liveblog, where you'll be able to follow the action through timely text and image updates. Alternatively, there's always the video stream from the event that you can
watch here
.
EVENT START TIME: 9 AM PT | 10 AM MT | 11 AM CT | 12 AM ET | 4 PM GMT | 6 PM CET
Live event tracker
| | |
| --- | --- |
| 12:26 | But do be sure to stay with PhoneArena.com, for we're having a ton of coverage around today's announcements! Thank you! |
| 12:25 | Rich Osterloch came back on stage to wrap things up. Which means it's time for us to wrap it up here as wall. |
| 12:24 | |
| 12:23 | An example for a Conversation Action is calling a Uber. |
| 12:22 | The so called Conversation Actions, though, will ask you to follow up your request with more details, in order to be executed correctly. |
| 12:22 | Direct Action like "turn off the lights" or "skip this song" will be directly carried out. |
| 12:21 | Google is working on an open platform to let developers create apps for Google Assistant. |
| 12:21 | |
| 12:19 | |
| 12:17 | Google Home is available for pre-order today, and will ship November 4. Through Google Store and retailers like BestBuy and Target. |
| 12:16 | |
| 12:16 | They've made it smarter though: only the device that hears you best will respond, so that the whole house doesn't start rocking upon request |
| 12:15 | This is what a Google Home-alized house looks like. |
| 12:14 | Google is working to bring Netflix to this so-called "voice casting" to Google Home. |
| 12:14 | "Ok Google, play the latest Katy Perry song." And it's going to play it on the TV. This will work only with YouTube at first. |
| 12:13 | |
| 12:12 | Google Home will be integrated with Chromecast: with just a voice command, you can call something to be played on the TV. |
| 12:10 | An interesting Home feature can brief you on your day, including time, weather forecast, commute to work, and appointments you have. |
| 12:08 | "The Google Assistant is there when you need it." "We want Google Home to help you stay on top of your schedule." |
| 12:04 | "OK, Google, play that Shakira song from Zootopia!" And it actually played the correct song! |
| 12:01 | The speaker inside Google Home should be pretty decent. "With rich base and clear highs." |
| 11:59 | Here's what Google Home can do. |
| 11:59 | |
| 11:58 | Now, onto Google Home! |
| 11:58 | Available in November, at $69. |
| 11:57 | |
| 11:57 | |
| 11:57 | Chromecast Ultra is the new 4K Chromecast. |
| 11:56 | |
| 11:55 | Google's network assist tech should make sure that you're automatically using the optimal wireless settings for speed and reception. |
| 11:54 | Google Wi-Fi hotspots. |
| 11:53 | |
| 11:53 | Mario Queiroz will now shift gears to the home, and Google's efforts to gain a permanent spot inside. |
| 11:52 | Available in November at $79. |
| 11:52 | |
| 11:51 | Daydream View will of course work way better with 360-degree videos, designed for VR. |
| 11:50 | Street View and YouTube will also work with Daydream. Regular videos will simply look bigger with the Daydream View. |
| 11:49 | Over 50 partners are bringing apps and games to Daydream this year. Doesn't really sound that many... |
| 11:48 | Starchart is another app for VR - you'll be able to point at different galaxies and stellar objects using the remot… twitter.com/i/web/status/7… |
| 11:47 | An exclusive "Fantastic Beasts and Where to Find Them" experience will be available for Daydream. |
| 11:46 | |
| 11:45 | The remote is motion sensing, allowing for swinging and drawing gestures. |
| 11:44 | There's a latch on top of the headset - you use that to open it and place the phone inside. |
| 11:43 | Daydream View should be more comfortable to wear, due to fabric materials and light weight. |
| 11:42 | |
| 11:42 | The Daydream view headset! |
| 11:41 | |
| 11:41 | Google Pixel through US carriers will be exclusively available through Verizon. |
| 11:40 | Clay Bieber will now introduce us to Google's VR efforts. |
| 11:39 | Pre-orders open today! Starts at $649. That's for the 5" model we guess; price for the 5.5" will probably be higher. |