Google's Andromeda OS: What to expect?
30
The Internet has been buzzing with rumors the last few days, regarding a supposed new operating system by Google that would fuse Android and Chrome OS into a singular software entity, dubbed Andromeda. Google fans are understandably becoming increasingly excited about the premise of such convergence, which is saying a lot about what people really want from the big G and tech in general — a greater focus on singularity — but is it too early celebrate?
It is too early to say, really, as the Andromeda hype wave that has been battering the Internet these last couple of days was set off by Android Police, which based its claims on "two independent and reliable sources" and a report on the possible convergence of Android and Chrome OS published by the Wall Street Journal in October 2015. On the other hand, Chrome Unboxed claims that Andromeda may simply be the codename of an internal project by Google that might never come to fruition, or at least, one that might not at all be the unified OS of tomorrow everyone is dreaming of. Either way, we are not here to pass untimely judgment on whether this OS is real or not, but rather to imagine what it would be like, were it real.
Chrome OS and Android are two very different beasts. One is a cloud-centric experience that necessitates the use of a web browser to access a suite of online software and apps on less powerful hardware, while the other revolves entirely around apps being downloaded and installed onto the device itself. For a while, Google pursued both, not knowing which approach would prove more successful. However, with Android usage soaring, the big G has since decided to bake in native support for Android apps into Chrome OS, thus allowing users of the desktop OS access to its vast ecosystem of software via the Play Store. Now, if the new rumors are anything to go by, Andromeda might be a much larger, more ambitious initiative that could see Chrome features being introduced into Android, and not vice versa. This could potentially spell the end of Chrome OS and bring Android to the desktop environment.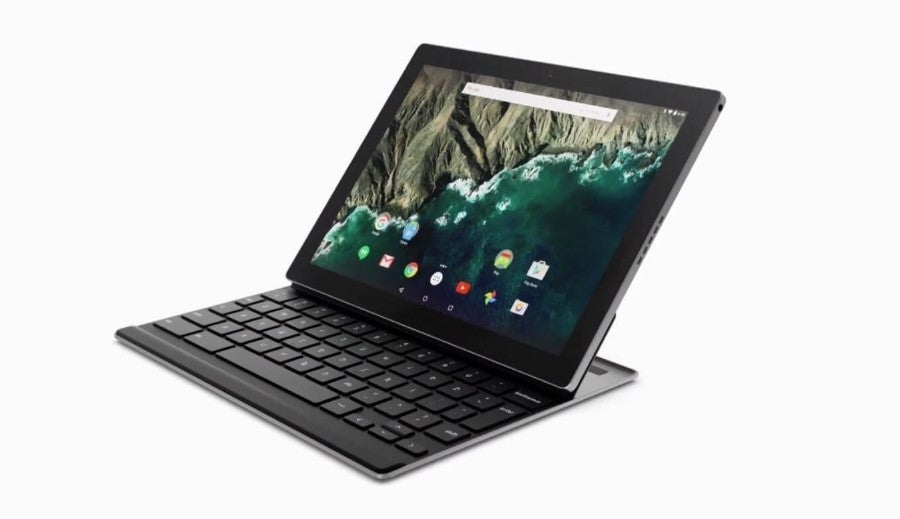 Imagine the Pixel C running an OS much better suited at multitasking, complete with a desktop-like multiwindow environment, that's still Android at its core.
According to Android Police, Google will release the
Pixel 3, codenamed "Bison"
, sometime in Q3 2017, and it would not be marketed as a Chromebook, but rather as a full-fledged competitor to offerings by Microsoft and Apple. According to the rumors, "Bison" will support "tablet" mode, meaning that it could be a convertible device in the vein of the Lenovo Yoga series, or a detachable like Microsoft's Surface Book. Either way, it will likely move web-based software from the forefront to the back, in favor of a more independent and complete OS. This is not to say, however, that this concept will be ditched completely, as Google is bringing Instant Apps to Android, but it may take the back seat this time around.
A recent report by Wired on the future of Chromebooks states that:
Google now strongly recommends—which is a lightly-veiled warning that it'll be mandatory soon—that every Chromebook include GPS, NFC, compass, accelerometer, a fingerprint reader, and a barometer. Those are all smartphone parts that have made little sense in a laptop before. But Android apps are inspiring manufacturers to make devices that move, that adapt, that take on different forms in different contexts.
Packing most of these sensors in a regular laptop seems redundant, but would make much more sense if the machine were running a universal operating system – one that is designed to work on smartphones, tablets and PCs. What is reported is also in line with the aforementioned rumors outlining a convertible 2-in-1 device. Furthermore, Google is definitely toying with the idea of Android for multitasking, as is evident from Nougat's multiwindow mode. Now, it may not seem very useful considering the relatively limited screen real estate of a smartphone — or even a phablet — but takes on a different image when thinking bigger. Like Pixel-C-bigger, or more.
It only makes sense for Google to try and forge an Android-powered desktop OS that can draw from the vast software pool of its mobile counterpart and offer a seamless experience for users when switching between devices. People are apparently becoming very excited at the prospect, which should be more than big enough an indicator as to what they want. Microsoft has been testing these waters for a while now with the Universal Windows Platform (UWP), which allows developers to create apps capable of running and adapting to different devices and screen sizes, but its success has been limited for a plethora of reasons. Could Google fare better?
Senior vice president of Android, Google Play, and Chrome, Hiroshi Lockheimer, tweeted recently:
We announced the 1st version of Android 8 years ago today. I have a feeling 8 years from now we'll be talking about Oct 4, 2016.

— Hiroshi Lockheimer (@lockheimer) September 24, 2016
Although vague, Lockheimer's tweet suggests something big is coming our way on October 4th, a game changer, in fact. He could not just be referencing the new Pixel phones, could he? Google has something bigger under wraps, something bearing far greater implications for the future of Android.
Now for the codename, "Andromeda". Apart from the obvious fact that it contains the first five letters of the word "android", it surely has some clever hidden meaning as well. Could it be a reference to the Andromeda constellation? It very well may be. Andromeda is visible in the Northern Hemisphere and is immediately recognizable by its three brightest stars — α, β and γ — arranged in almost a perfect line. Could they symbolize the main platforms Andromeda will run on? Three pillars – mobile, desktop and hybrid devices? Not a lot left now before we find out.