Piper Jaffray: iPhone users not terribly excited about the new 2017 models
50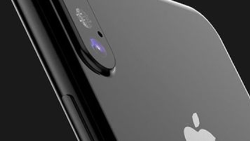 You would think that with the tenth anniversary iPhone offering several new features, fans of the device would be overly excited about
upgrading to the phone that could be called the Apple iPhone X
. According to Piper Jaffray analyst Michael J. Olson, people are no more excited about this year's new models than they were for last year's new product introductions, which included the
Apple iPhone 7
and
Apple iPhone 7 Plus
.
Olson pointed out that the securities firm took a survey of more than 400 iPhone users and 16% of them said that they plan on upgrading to one of the new models this year. That is a slight increase from the 15% who said that they would upgrade last year. Additionally, 24% of those surveyed this year answered that they would "maybe" upgrade versus the 29% who responded similarly last year.
The results of the survey indicate that Apple might need to spend some time during its product announcement on September 12th, explaining to consumers why they might want to purchase the new iPhone model. Expected to be priced as high as $1199 for the version carrying 512GB of storage, the cost of the tenth anniversary phone is going to play a huge part on whether people decide to purchase it.
The premium version of the handset is expected to be the first Apple iPhone unit to employ an OLED panel. The screen shows edge-to-edge images and the Touch ID fingerprint scanner will be replaced with 3D facial recognition. An ""L" shaped battery allows for longer battery life, and wireless charging will be offered as an optional feature.
Apple will also introduce the sequels to its current iPhone 7 and iPhone 7 Plus models. The pair are believed to be called the Apple iPhone 8 and Apple iPhone 8 Plus, respectively.
source:
CNBC