Photos show HTC Vigor in all of its LTE enabled glory
40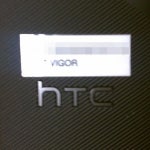 The first shots of the HTC Vigor were obtained by Droid-Life and the handset appears to be quite a specimen. With a 1.5GHz dual-core processor expected to rock the handset, Android 2.
3.4
aboard and a
4.3 inch screen offering 720p resolution
, the phone is full of vim and..ahem...vigor and is 4G LTE enabled. This dovetails perfectly with expectations that it is headed to Verizon on October 6th as the next big thing following the Motorola DROID BIONIC.
Even without the Verizon logo on the phone, the color scheme is somewhat "DROID-ish" and some have noted the HTC Vigor's resemblance to the HTC DROID Incredible 2. Now if you keep in mind a couple of things, that the HTC ThunderBolt was
originally thought to be named the HTC Incredible HD
, and that the Vigor is set to replace the ThunderBolt in Verizon's lineup, you can add the resemblance to the DROID Incredible 2 and the stunningly high-resolution screen and come up with the idea that
the Vigor will be the HTC Incredible HD
.
Other specs that have rumored to be on the HTC Vigor include 1GB of RAM, 16GB of storage and
Beats by Dr. Dre technology
. Yes, this could be the first of HTC's smartphones to incorporate some software
related to its new partnership
with the company.
source:
DroidLife