Motorola Lapdock 100 hands-on
8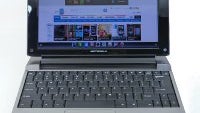 With a new batch of quality Android powered smartphones, Motorola has yet another new laptop accessory ready to provide handset owners the usefulness of the
Webtop
experience – Motorola's home brewed app that provides the full fidelity of a desktop web browser.
Just like the previous model that
launched with the Motorola ATRIX 4G
earlier in the year, the
Motorola Lapdock 100
is the latest 10.1" model that accommodates the recent crop of Android powered Motorola smartphones – like the ATRIX 2, PHOTON 4G,
DROID BIONIC
, and DROID RAZR. Going forward, it will also be compatible with most devices being released in the future, which didn't make the original model all that useful since it was compatible with the ATRIX only. Packing a weight of
2.2lbs
, it's fairly lightweight enough to handle, thanks to its all-plastic construction. For something that's comprised out of plastic, the Lapdock 100 feels
sturdy
enough to withstand the elements – plus, it packs 2 full sized USB ports, left & right speakers, connection adapter, and a lock port.
With its
1366 x 768 resolution
, it's good enough to make out most things – though, fine text can still be indistinct with its 10.1" size. Unfortunately, the keyboard layout is indeed
cramped
, which is evident by some of the half sized buttons we find with it. However, after some playing around, we're able to speed type at a decent pace with minimal mistakes. And as our palms rest on its keyboard, the Lapdock's trackpad sits firmly right in the middle – thus, giving us good navigational control. All in all, the build quality and size of the Lapdock 100 is nice and is easily on par to the design of some netbooks out there.
Connecting a Webtop enabled smartphone (the Motorola DROID RAZR in our case), we're instantly transported to the main Webtop screen that displays the handset's interface on the left side. Of course, it's nice being able to control all of the functions of the phone on the Lapdock 100, and at the same time, we get the full fidelity of using
Mozilla's FireFox web browser
. Naturally, it gives us a good blend of
multitasking
between various apps, but in most cases, we find its performance to be extremely
sluggish
– even worse, we're greeted with warning messages to close down apps because of low memory.
After looking at its full outright price of
$249.99
, some of you might want to reconsider picking it up – especially when decent netbooks can be purchased at roughly the same cost. Unless you dearly want to experience Webtop, it's blatantly obvious that the Lapdock 100 makes for a great add-on accessory for your brand new Android powered Motorola smartphone. Actually, it's not a must-have item, but rather, an optional
luxury
for those who are willing to fork over some cash to get more out of their device.