Mobile phone saves its owner's life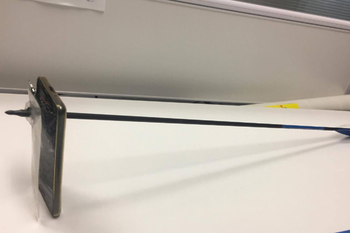 UPDATE:
We originally identified the heroic phone as being an iPhone. However, the original source has updated its story to indicate that it was an unnamed handset that came to the rescue. We have updated our story accordingly and apologize for the mislabeling of the phone.

The incident took place yesterday in New South Wales in Australia when the man was threatened by someone he knew who was wielding a bow and arrow. The man lifted up his phone to capture a photo of the confrontation when the assailant pulled back on the bow and let go. Miraculously, the arrow ended up penetrating the victim's device, going out the other side. The tip of the arrow caused a small cut on the man's face.