Pension Plan investor criticizes Dan Hesse; Sprint's board still supports CEO
19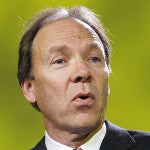 Did the future ever shine brighter for Sprint than at CES 2009 when
Palm took the wraps off the Palm Pre?
But we all know how that story ended and since then, the nation's third largest carrier has also found itself mired in a number of questionable activities. Sprint faces a giant hit on its Clearwire investment. Very soon, Sprint will have a conclusion to the
LightSquared fiasco
that will eventually
end with a broken contract between the two firms
. And while it should prove profitable in the end, some question Hesse's
$15.5 billion investment in the Apple iPhone
.
Some investors have been vocal with their criticism of Hesse. According to Monday's Wall Street Journal, Dragos Stefanescu, a director for the Ontario Teachers' Pension Plan,
criticized Sprint's complicated network plans
at a lunch meeting in Boston last year. Meanwhile, sources for the WSJ say that the carrier's board still has Hesse's back although they still will second guess him when necessary. This was the case with the alleged offer by
Sprint to buy MetroPCS
for $8 billion. The speculation is that Hesse had signed off on the purchase and was all set to make the announcement when the
Board decided not to move ahead with the deal
.
According to the Journal, Hesse has started comparing his efforts to turn Sprint around to to
Ernest Shackleton's struggle to keep his crew in Antartica alive
about 100 years ago. This might not have been the best of choices for Hesse to use as a comparison because while Shackleton and his crew managed to survive, they never met their goal of reaching the South Pole. Not a good sign for the beleaguered executive
trying to turn around the carrier
.
source:
WSJ
(subscription req'd) via
BGR