Marvell announces a 1.5GHz smartphone chipset with three cores and support for USB 3.0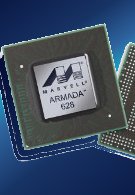 Not to be outdone in the mobile CPU war, Marvell announced its own system-on-a-chip (SoC) for smartphones and tablets, based on the ARM architecture. The Armada 628 has an ace up its sleeve over the
upcoming dual-core Snapdragon, OMAP4 and Tegra 2 chipsets
- it features three cores. Two of them are humming at 1.5GHz, and the third, at 624MHz, serves for everyday tasks to preserve battery life, then kicks the dynamic duo in for the heavy lifting.
Capable of dual-stream 1080p full HD video encoding and decoding at 30fps, the chipset will support 3D visuals at stunning resolutions. TI's flagship OMAP4 does 3D video at 720p, for instance. The handsets equipped with the Armada 628, should be able to achieve 10 hours of full HD movie playback, and 140 hours of high-fidelity audio on a single charge. Graphics performance is also boosted up from the current SoC generation - the chipset is rendering 200 million triangles per second, which is more than double what the best in class Hummingbird in the Galaxy S is now offering.
Marvell is traditionally huge in e-readers, so another notable feature is support of up to four displays - two LCDs, HDMI-out, and e-paper controller are all listed in the mix. Marvell's creation has built-in USB 3.0, which we haven't heard the other contenders to support, and is a very welcome addition to transfer those full HD videos quickly out of the handsets. BlackBerry phones use older versions of Marvell's Armada family, so if we take a wild guess, RIM could catch up quickly on the hardware front.
Armada 628 supports all major mobile operating systems, and is now in manufacturers hands for sampling, which means that we will be seeing devices with it in the second half of next year at the earliest. That's about the
time when the third Snapdragon generation
at up to 1.5GHz should be entering smartphones and tablets, so Marvell might have given Qualcomm a good rush with this announcement. Still, Snapdragon has the advantage to provide the baseband radios integrated in the chipset, so it will be interesting to watch the developments in the next year or so.
source:
Marvell