Our brains are adapting to typing with our thumbs
11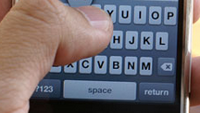 At the Institute of Neuroinformatics at the University of Zurich, a study was conducted that showed smartphone users' brains are changing, with more responses seen in the part of the brain associated with the thumb. This is taking place because of all of the thumb-led touchscreen typing that smartphone users are doing. The scientists studied 37 right-handed people, 26 of whom used a touchscreen smartphone. The remaining 11 used older, non-touchscreen handsets. Arko Gosh, one of the scientists involved with the study, said that "
Smartphones offer us an opportunity to understand how normal life shapes the brains of ordinary people
."
Using electrodes and EEGs to monitor brain activity, the study found that the smartphone users had different responses than the older cellphone users. 62 electrodes placed on the test subject's heads monitored their movement of the thumb, forefinger and middle finger. Cortical brain activity in the part of the brain that deals with control of the thumb was higher in smartphone users. And the more time that the smartphone users spent with their devices, the stronger that signal was.
The bottom line is that using your thumb to type on your smartphone is similar to learning how to play the violin. Your brain responds to both tasks by increasing cortical brain activity for the appropriate part of your body. For violinists, the brain has increased cortical activity in the fingers. Among smartphone users, the increased cortical activity is seen in the part of the brain that controls your thumbs.
source:
EurekAlert!
via
TechCrunch
Recommended Stories