Opera Mobile 11 Hands-on
8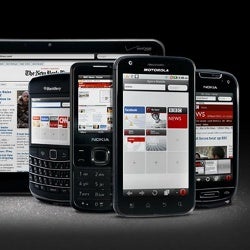 Opera kept the latest version of itsOpera Mobile browser for one of the biggest events in the industry – CTIA Wireless 2011. But does it bring any substantial new features? Wetook some time to figure out what's changed in the latest 11th version of the browser and used one of the most powerful devices around – the LG Optimus 2X and the 7-inch Samsung Galaxy Tab to test its Flash performance andimproved speeds.
The first thing you notice when youfire up the browser is the slight polish of the interface includingthe removal of the Opera title bar freeing up space. But you'll alsosee the iconic huge red "O" which will take you to the settingsmenu. And in terms of settings, Opera is one of the richest browsersout there most notably with its Opera Turbo mode, compressingwebpages by up to 80% - now that's what we call a real speed boost!One welcome addition to settings is the share button allowing you toshare pages to your social networks of choice in just two taps.Nicely done!
Pinch-to-zoom is also present and worksflawlessly. When you go for an up-close look it also wraps the textaround the page for your reading comfort. Opera claims thatscrolling, panning and zooming have all improved, and while we didn'tgo for a direct test, we could indeed notice their unflawedperformance. Adobe Flash is also supported and it worked just fine, butdon't expect wonders – heavy banners or videos will slow down yourbrowsing significantly.
In its tablet version, Opera Mobile 11is even more convenient with the menu bar located in the upper partof the screen, unlike the bottom menu stripe on phones. You also getquick access via a pop-up to your tabs – an elegant solution, weshould admit. Support for platforms includes Android, Symbian,Windows Phone 7, MeeGo and Maemo, so if you have one of these on yourdevice why don't you check out our quick hands-on video and grab thebrowser from the Android Market – it's a free download after all.