OnePlus co-founder Pei confirms the next new OnePlus handset is coming around Christmas
29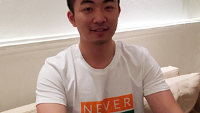 OnePlus co-founder Carl Pei revealed in an interview published in today's
USA Today
that the next OnePlus handset would be out before the end of this year, possibly around Christmas time. The executive said that it may or may not be a higher spec'd model than the
OnePlus 2
which means it could be
the long rumored OnePlus mini model
. On the other hand, we have heard about a phone called the OnePlus X with a 1440 x 2560 screen that could be a higher-spec'd version of the just unveiled OnePlus 2.
This isn't the first time that we have heard about another OnePlus phone being readied for release in 2015. Back in April, we told you that a
cheaper handset would be offered by the company this year
following the release of the OnePlus 2. Carl Pei himself was quoted by Bloomberg as saying that the second 2015 device could be made for a "
different type of audience, perhaps for those who appreciate design over specs
." Pei said that when he saw the prototype for the next phone, he wanted it to be his daily driver, but changed his mind when the OnePlus 2 production model came out. He says both phones are nice and that it is very hard to decide which one to use.
During the interview, Pei told the national newspaper that in five years, there will be room in the smartphone market for just three companies. He listed Apple, Samsung and OnePlus as the survivors, saying that the other companies will die off because of their inability to produce large enough margins to sustain their business. That seems funny to hear from the head of a company known to sell its phones almost at cost, but Pei added that if people continue to support OnePlus' products and love the company, it is inevitable that the company will grow and make money.
Pei also answered critics who complained about the lack of NFC support on the OnePlus 2. He said that "
Very few people are using NFC, so we cut it. It's as simple as that
." He added that by the time NFC is widely used, 12 to 18 months from now according to his calculations, people will be on to their next phone.
While
OnePlus sold over 1 million units of its first model
, Pei noted that the company broke even due to the low selling price of the phone. He said that OnePlus added a lot of new employees and says it will be a stretch to break even again this year. Still, while there has been
talk of internal targets inside OnePlus reaching 3 million to 5 million handsets this year
, Pei says that more important than sales figures is what consumers are saying about the company's phones.
"We said 'let's sell 50,000 phones for the OnePlus One' but we were lucky and sold way more than that. We have some internal targets of 3-5 million (sales) for this year, but it's not really important if we reach it or not. The most important metric for us is what people say about our phone, are our users happy, can we survive this year or not?"-Carl Pei, co-founder OnePlus
And don't expect OnePlus to branch off into wearables or televisions or other products. While Pei revealed that OnePlus almost branched into fitness trackers, he stated that only by focusing on one product can a company produce the best in any given category.
Thanks for the tip!
source:
USAToday
via
Technodify