[updated] "Mini" OnePlus One to sport 5-inch display, Snapdragon 615 processor, $245 price tag?
25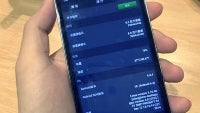 Two photos of a purported "mini" OnePlus One showed up on the Internet, along with a spec sheet that seems in tune with what one would expect in a low-cost midranger by the Chinese upstart.
According to the AnTuTu device profile from the first photo, the smartphone has a 5-inch display (how's that for mini?), a Snapdragon 615 processor, and what appears to be two 8MP cameras on the front and back panels. The operating system is Android 4.4.4 KitKat. Moving on to the looks, they don't seem much different than those of the original OnePlus One, but the plastic texture on the back is rougher.
According to the source, the mini OnePlus One will be announced in 2015 and it will sell for $245 (1499 RMB). Psst, can we reserve an invite already?
Meanwhile, purported specs of the OnePlus One successor were
leaked by a Chinese reseller in the beginning of December
. Reportedly, the smartphone will have top-shelf hardware, such as the Qualcomm Snapdragon 810 processor, a 5.5-inch 1440p display, and a 16MP main camera among other bits of flagship-killing arsenal.