OnePlus One will be invite-only when it goes on sale next week
14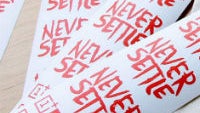 We've been getting more and more info on the OnePlus One recently. We know the
pricing
, we know the release date, and we've even seen what may be some
components
of the device. Now, we're getting a bit more info on how you will be able to purchase the Android device when it is released next week. There is potentially bad news on that: sales will be invite-only.
OnePlus made the announcement today on its blog. It explained that the idea was to avoid the bad customer experiences that surround various ways of purchasing a "popular smartphone". That may sound a bit presumptuous from a company that has never released a device before, and is starting out with a decidedly niche device that will only appeal to power users and the tech elite. But, the One has been generating quite a buzz, and any device with the combination of specs and price tag that are coming with the One will get the Android faithful excited.
OnePlus will be offering up invites on launch day through its website, contests, and maybe even your friends. The plan is that when you get an invite and order your device, it will be sure to ship "within a few days". The troubling part of this plan is that OnePlus is saying that "in the beginning, [invites] be available in limited quantities". They will become easier to get as time goes on, but it definitely means that most of us shouldn't get hopes up of being able to buy a OnePlus One on launch day, April 23rd.
Recommended Stories