The Thunder Purple version of the OnePlus 6T won't be available in the US
10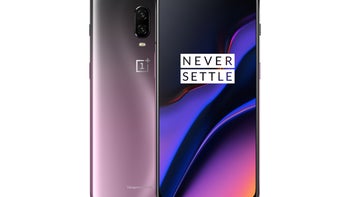 Just yesterday, the rumored Thunder Purple version of the OnePlus 6T quietly popped up on OnePlus' Chinese website, revealing both the storage loadout and the pricing of the device, which would sell for the equivalent of ~$519 in China. We also got to see the real hues of the new color variant, which is more of a dark pink gradient blending into black and not as vibrantly-purple
as we initially expected
.
Well, we reached out to OnePlus to shed a bit more light on the Thunder Purple version of the OnePlus 6T and its further availability around the globe, and... Sorry the break bad news to you, but the company revealed the Thunder Purple paintjob will remain exclusive for China and currently has no plans of bringing it to any other Western market, the US included.
Hopefully, OnePlus would reconsider its decision because it won't be too far-fetched to say that in its current state, the OnePlus 6T is rather bland color-wise. You can have it in any color as long as it's black - you can have it in the glossy Mirror Black and matte Midnight Black. Other colors a are a major no-no at the moment.
Hopefully, OnePlus will be quick to re-evaluate its strategy and come up with more colorful variants of its latest and greatest device: notable omissions right now are the bright Silk White version, the fiery Red one, and this snazzy looking Thunder Purple, which would all add up way more pizzazz to the OnePlus 6T lineup.
Which color would you like to see the OnePlus 6T in?