OnePlus 3 price hike coming in the U.K.; blame it on those who voted for Brexit
32
Even though the
OnePlus 3
was
just launched two weeks ago
, the price of the "flagship killer" may be already poised for a hike in the U.K. You can blame it on those who voted for Brexit. The surprising tally found that most Brits favored the departure of their country from the European Union. The OnePlus 3 is priced at £309 ($415 USD at current conversion rates).
When the results of the balloting became known, the value of the British Pound dropped like a rock. From a price of $1.50 USD to buy a British Pound, England's currency collapsed to $1.34. The value of Britain's currency dropped by more than 10% in hours. The problem for OnePlus is that their margins are so thin, currency fluctuations can quickly force the company to raise prices.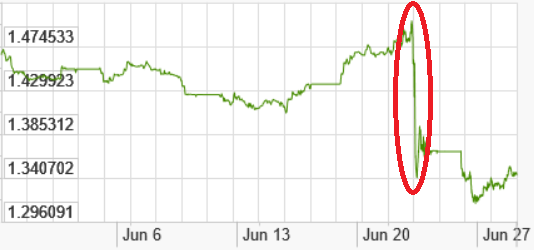 The decision by Brits to leave the EU led to a huge drop in the Pound vs. the Dollar
In fact, the only other time that OnePlus felt compelled to raise its prices was early in 2015. Back then, a sharp drop in the Euro to a nine year low against the dollar resulted in OnePlus taking a loss on every unit it sold in Europe. As a result, prices were hiked across the continent.
In its forum post dated today, the company said that it will give its members a further heads up a few days before prices are raised in the region. Before the votes were cast in favor of England's departure from the EU, a OnePlus 3 sold in the country for £309 could be converted to revenue of $463.50 USD. Today, that same £309 would fetch OnePlus $415 USD.
"We've always strived to create the best product and deliver them to customers at a reasonable price. However, the worrying downward trend of the GBP may make it difficult to maintain our current pricing structure in the UK. Our margins have always been thin, and our expenses are mainly in USD. This being the case, sudden drops such as the one that the Pound has recently experienced could have a direct impact on our prices.

We're telling you this now because we don't want you to be blindsided. If you're thinking of buying, we recommend doing so sooner rather than later. However, if a price change comes to pass, it will not be a decision that we take lightly. We have only had to increase prices once before, when the Euro hit a nine-year low against the dollar at the beginning of 2015, and we did so reluctantly. Currency fluctuations are not your fault, nor our fault; but if we sell at a loss, the simple fact is that there won't be a OnePlus in the future."-OnePlus
source:
OnePlus