On the day of Apple's digital textbooks announcement, Microsoft touts Windows-based slates for the classroom
8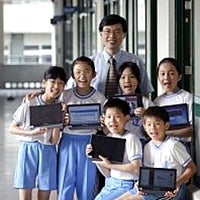 Microsoft just outed today on its Windows Team Blog an epic post how Windows-based slates are suitable for and invading classrooms around the world.
By coincidence, in a few minutes Apple is scheduled to unveil its rumored digital textbook project,
codenamed Bliss
, which is expected to use tablets for interactive textbooks in the classrooms.
Apple's project is said to target the K-12 crowd, and the company's Internet software head, Eddy Cue, is expected to take centerstage. Microsoft's post touts Windows 7 tablets as very suitable for educational purposes, as they provide "
familiar interface and ability to safeguard information
".
The educational market is very lucrative, as the recent
courting of Turkey by Apple and Google over its 15 million-strong tablet order for its schools
shows, so it's only natural that Microsoft wouldn't like to be one-upped there by Apple. The post also provides testimonies from various education-related companies around the world what Windows-based tablets have brought to the school experience.
source:
WindowsTeamBlog