OUYA Android game console finally goes on sale today for $100
19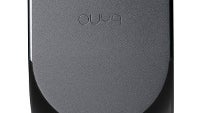 OUYA, the open Android game console with huge ambitions, has finally arrived in stores today and you can get the console with one controller for $99.99. An additional game controller costs $49.99.
The OUYA first started on Kickstarter where it gained massive support, and after long months of hard work the tiny cube-formed console is finally up for sale on store shelves. The console has also gone on sale in Canada and the United Kingdom.
The biggest benefit of the Ouya console is its cheaper price. Otherwise, the console cannot compare with the industry's big names in terms of hardware - the Microsoft Xbox, the Sony Playstation or the Nintendo Wii.
Right now, the console's biggest advantage are its diverse "original games". With 150 games at start, though, that might not be enough. On the flipside, all games are free to try. Ouya also featurse music and video streaming via apps like VEVO, iheartradio and Twitch.TV.
You can buy the Ouya game console at the following retailers:
source:
Ouya Store