HTC One (M8) vs HTC One (M7): Smart vs Optical Image Stabilization comparison
23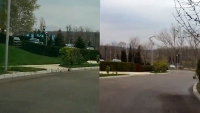 On Monday
, we went ahead and took the
LG G Pro 2
and the
LG G2
for a field test. The object of our curiosity? Optical Image Stabilization, and more specifically, whether the so called OIS+ on the new G Pro 2 was really as superior to the 'normal' OIS in the G2. The folks from LG promised 20% less shaky-hands-business, and after reviewing the tapes, we agreed -- the G Pro 2's OIS+ is, indeed, a step forward.
But what about of the still hot off the conveyor belt HTC One (M8)? The new flagship from the Taiwan-based company traded the OIS gizmos found in last year's One (M7) for a secondary camera whose sole purpose is to gather depth information, which, in turn, allows for some flashy tricks in the post-processing stage. The jury is still out on whether the involved R&D and manufacturing costs will be really worth the marketing gains, though we'll say this much: we are sad to see OIS go. Obviously HTC's PR team did try to push the notion that the One (M8)'s so-called "Smart Stabilization" rivals the OIS solution in last year's One:
A new ISP paired with the UltraPixel sensor enables performance that rivals the traditional Optical Image Stabilization in last year's platform
.
- HTC One (M8) Duo Camera White Paper
Unfortunately, as you can see from the results of our test below, letting go of OIS has had a pretty detrimental effect on video capture on the move. Take a look.