Galaxy S5 (Digital Stabilization) vs LG G2 (Optical Image Stabilization): video comparison
78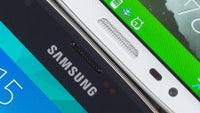 A little over a week ago
, we had quite a few of our readers nodding their heads in approval when the topic of the relative usefulness of Optical Image Stabilization (OIS) in smartphone cameras was raised, and we've definitely been having a kick out of testing the feature. Whether its in a vacuum, or against rivals with or without OIS, the extra has definitely grown on some of us. As it turns out, digging helps, as today we finally have our first upset and exception in the Samsung Galaxy S5.
What do we mean by that? Well, so far, cameras with just Digital Stabilization (DS; i.e. software enhancement, instead of a full-blown mechanical component built into the camera unit) have proven wholly unable to mount a credible attack on OIS -- video footage is just not even close to as steady as with OIS. Surprisingly, however, when we next turned to the Galaxy S5, it actually proved that DS can compete with OIS if done properly, at least when you pit it against the stabilizing module on the LG G2. As you can see from the footage below, the Galaxy S5 produces similarly shake-free footage, at times even proving more suited for the task than the G2. That's nothing short of amazing, and adds another dimension to Samsung's current top dog.
Of course, OIS has its uses beyond video capture -- when the OIS module compensates for the natural tremor in your hands, it allows the algorithms governing the camera to shoot at slower shutter speeds. That's at least how it works in theory with traditional DSLRs -- we don't actually have the data to confirm if such fine-tuning is actually going on in, say, the LG G2. Anyhow, go ahead and take a look, and make sure to share your reactions below.