Galaxy Note 9 vs Note 8: all major differences to expect
21
While Samsung is
leaking and pulling promo videos
and even has a pre-order page up for the
Galaxy Note 9
already, the thing on every
Note 8
owner's mind is "
is it worth switching
?" We can't announce an upgrade verdict with absolute certainty before the next best thing in the S Pen line is announced next week and launches two weeks later, but most everything about the Note 9 is known by now in terms of design and specs, so let's make a crack at comparing it with the
Note 8
to gauge what will be new and exciting, at least on paper.
Larger display
We kid you not - the Note 8 is officially listed with a 6.3" screen, while the Note 9 carries a 6.4" panel, and it's not a rounding error. A little while ago we had CAD factory schematics of the Note 9 sent to us, and made a render out of them, comparing the Note 8 vs Note 9 dimensions. Well, as you can see below, the Note 9 is a tad shorter, and more than 1mm wider than the Note 8, which explains the increased screen diagonal.
Does that mean we are getting new screen tech or a next-gen OLED panel on the Note 9? Remains to be tested, but we'd be remiss not to point out that the
Galaxy S10+
display is expected to grow to 6.4 inches in order to chase the eventual
iPhone X
Plus diagonal, so that might very well be the same panel that the Note 9 is now carrying. Moreover, there is speculation that Samsung may merge the Galaxy S and the Note lines into one S10+. There is a great deal of overlap between the S8+ and Note 8 or the S9+ and the Note 9 now, so we wouldn't be surprised if it does indeed.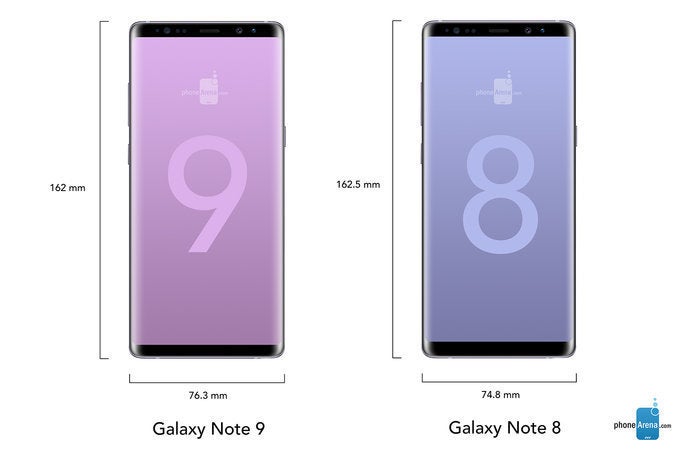 More storage, way more storage
In this day and age of 4K 60fps video recording, we are delighted to hear that Samsung has bumped the basic storage amount of the Note 9 twofold - from the 64 GB of the Note 8 to 128GB for the same launch price. What's more, however, is that the Note 9 will be a terabyte phone, meaning that there will be a 512GB model that will cost about $200 more and will carry support for 512GB microSD cards, so you can carry an expensive laptop worth of storage with you at all times.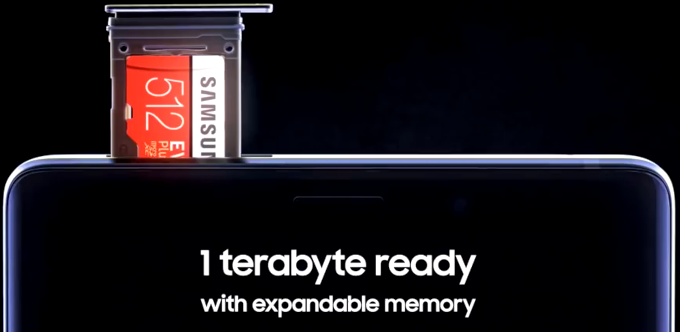 Variable aperture camera and 960fps slow-mo
That still means that the Note 9 will one-up the dual camera of the Note 8, though, what with the unique variable aperture lens that can go from f/2.4 to f/1.5 in a jiffy when light conditions demand it.
Thus, if you are coming from an S9+, there is not much point in upgrading for the camera alone, but if you have a Note 8, the leap will be wider, moreso given that the Note 9 will borrow the 960fps slow-motion video abilities from the S9 as well.

Gorilla Glass 6
While Corning sent us a press release yesterday to inform us about the first phone with the tougher Gorilla Glass 6 - some future Oppo flagships that is expected to land in the coming weeks - we hold our hopes high that the Note 9 will also sport Gorilla Glass 6, but Samsung hasn't had the idea to push it as something exclusive through Corning's PR department yet. Note line phones are usually some of the first to get any new generation of Gorilla Glass, and Corning announcing its 6th-gen effort so near the Note 9 unveiling is probably no coincidence. Note 8 comes with Gorilla Glass 5, and the next generation promises multiple drops from waist height without cracking, though we'd have to see this to believe it.
'Remote control' S Pen
The Note 9 will have active, Bluetooth-laden and battery-equipped S Pen stylus this time. You will be able to control music with the S Pen, use it as a camera shutter, remotely unlock the
Galaxy Note 9
with the S Pen, play shooter games with it, and many more actions that can be used by third-party apps now, or assigned to single and double press of the Pen button.

Gaming enhancements
Better cooling? Check. Exclusive games like
Fortnite for Android
? Check. The Note 9 is expected to sport a lot more copper
piping for heat dissipation
under the hood, allowing it to run its graphics processor at higher speed, and eke out every small bit of performance out of it because of better cooling and higher frequencies.
Moreover, Samsung has apparently
entered agreements
with devs like Epic and Bethesda for providing exclusive gaming content for the phone, and first in line will be none other than
Fortnite
, the massively popular game that is still to make an Android cameo. Not that you won't be able to play the same games on the Note 8, but the cooling optimizations alone are worth it for other tasks, too.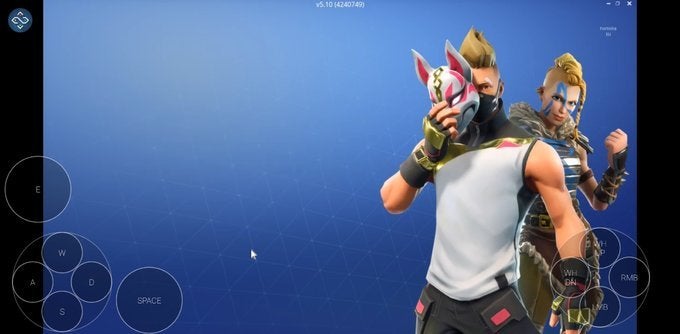 Stereo speakers
The leaked Note 9 box from a Russian retailer reads that the phone will sport the
Galaxy S9
/S9+
AKG-anointed
stereo speakers and earphones setup, which is one leg up against the Note 8's single unit. That one can't be saved even by the shady mod that added the earpiece as a second faux stereo speaker.

Better battery life
We saved the best for last, as the Galaxy Note 9 is listed with a 4000mAh battery, which is a whopping 20% increase compared to the Note 8 and will go straight into more screen-on time. All other things being equal, the Note 9 will have a slightly more efficient chipset than the Note 8, and a much larger battery, so QHD+ display resolution or not, it is bound to perform much better in the battery life department, arguably the Achilles heel of modern flagships.