Not water-resistant like the Samsung Galaxy S5, the Motorola DROID Turbo is splash-resistant
11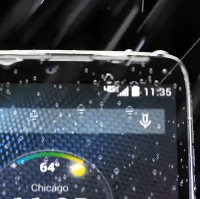 Drop your
Samsung Galaxy S5
into a fish tank, and as long as you get it out of there before a half hour expires, the phone should live to work another day. But try that stunt with the
Motorola DROID Turbo
, and you will find yourself trying to remove your new beast from a watery grave. Not that the DROID Turbo isn't protected from some contact with water.
Just like some of the more recent DROID handsets, the DROID Turbo is coated using nanotechnology to help the phone repel water on the inside and outside of the device. And that means if you spill a glass of water on the handset, or you answer the phone in a light rain, the device is protected from any internal or external damage
This is similar to the protection being afforded to the Motorola built
Nexus 6
, which also is listed as being splashproof. It is a far cry from the IP 68 rating that belongs to the
Sony Xperia Z3
. That rating means that the phone can be submerged in about 3.3 feet of water for no longer than 30 minutes, without sustaining any damage.
To reiterate, the Motorola DROID Turbo is protected from spills and light rain. But we definitely would not use this phone near a swimming pool or a bathtub.